Leaders in war of words over bouncers' deaths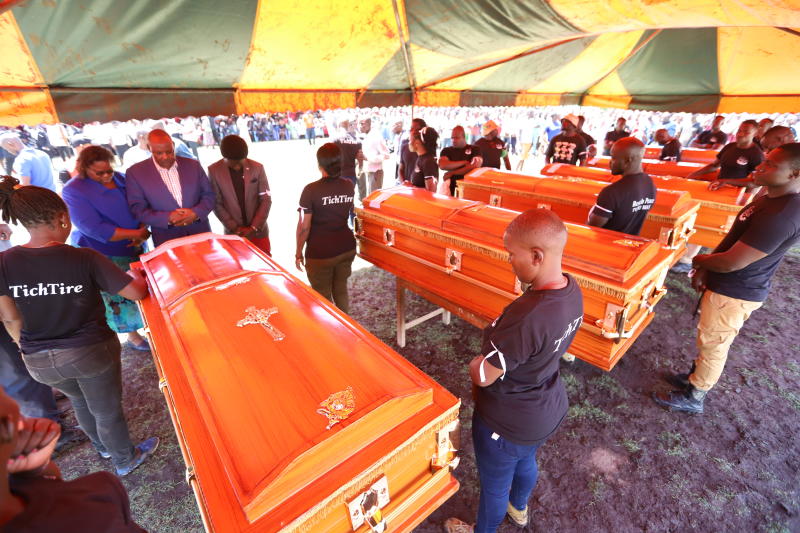 The memorial service for the six bouncers killed in Busia last week was nearly disrupted political differences between Kisumu Governor Anyang' Nyong'o and Senator Fred Outa intensified.
Mr Outa lit the fire when he claimed Prof Nyong'o was partly to blame for the murder of the six.
The senator said some of the bouncers had been employed as casuals by former Governor Jack Ranguma, but were sacked by Nyong'o when he took over in 2017.
The six men were killed on Friday last week at Masebula village in Busia County where they had been hired to provide security during the funeral of a murdered businessman.
Outa said the sacking of the men by Nyong'o sent them into desperation, forcing them to engage in odd jobs like being security guards at funerals and exposing them to the danger that led to their death.
"Sisqo (William Omondi, one of the deceased) could not have died this way had he still been working in the Kisumu County government. Nyong'o is shedding crocodile tears," said Outa, stirring jeers against Nyong'o.
The sentiments did not go well with the governor's supporters who briefly engaged in a shove with Outa's backers. This nearly disrupted the funeral.
But when he stood up to speak, Nyong'o accused his opponents of misleading locals, claiming that he had good plans for Kisumu youths.
Work together
He said he was working on a major road maintenance programme, in which the youth will be employed to repair the roads.
"I am a father and grandfather to many. I know the challenges facing our people and I ask all of us to join hands so that we work together," said Nyong'o.
Nyong'o and Outa, who campaigned together during the 2017 General Election, have since turned into fierce rivals. Any time the two share a podium, they always clash, verbally attacking each other.
Nyando MP Jared Okello called on the leaders to end politicking and deliver on the campaign pledges.
"Today is a day for mourning and this is a very big loss. I urge our people to tone down on politics so that we give our people a decent send-off," said Okello.
Leaders demanded answers from authorities over the killing of Phillip Kwach, William Omondi, Evans Onyango, Richard Odero, David Okeyo and Elvis Odoyo.
"The killers are known, and we should not blame the entire Busia County for this crime. Let the killers be named and charged accordingly," said Nyong'o.
Okello said: "As leaders of this area, we are closely following this issue and our people must get justice. They have left behind young families and I ask our people to remain calm as we seek the truth."
Earlier during the mass, there was tension as mourners demanded that the leaders take a stern action against the killers.
Mistaken identity
A mourner who claimed to have witnessed the killings painted a gory picture of the day the young men killed in a case of mistaken identity.
"It is an experience that I have not found easy to share with anybody. Not even my husband," said Pastor Eveline Atieno of the Highway of Life Fellowship Church.
She said she had been approached by a church mate to accompany her to the funeral of her son-in-law, Johannes Aduol.
Atieno said tension began when the body was taken to Bumala market for viewing, and built up at Masebula School, where the final viewing was to be happen.
It is during the viewing when the six men were rounded up and killed by the villagers. Atieno, however, did not attend the memorial service for fear that she would put her life in danger.