Local NGO rolls out epilepsy awareness campaign in Homa Bay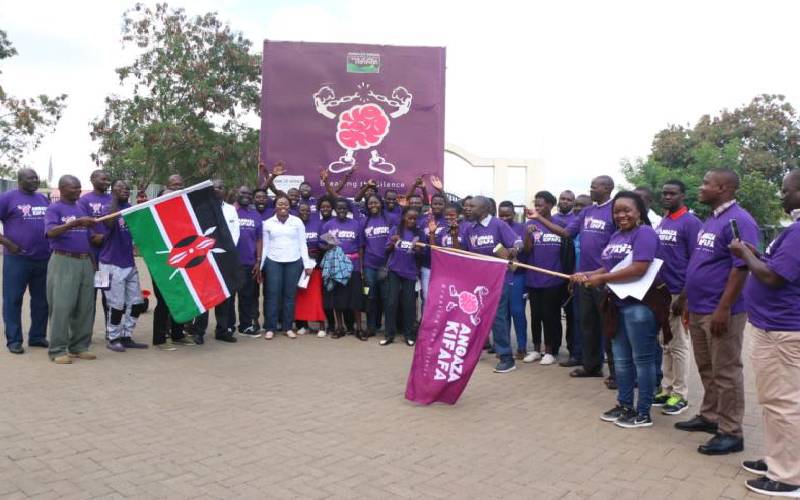 A Non-Governmental Organisation has begun a sensitisation campaign aimed at rescuing epileptic persons hidden by family members and stopped from accessing medication in Homa Bay county.
The initiative dubbed Angaza Kifafa campaign is aimed at encouraging persons with epilepsy to get treatment.
The campaign also targets families of the epilepsy victims on epilepsy, how to better support people with epilepsy and their families.
The initiative under the Bank of Africa and the National Epilepsy Coordination Committee also wants to deal with stigma and discrimination that people with epilepsy and their families are subjected to thorough educations and public awareness.
Stigma and discrimination not only prevent people with epilepsy from seeking treatment but also prevent them from leading meaningful lives.
The Bank of Africa Manager in charge of Corporate Social Responsibility Catherine Awuor and Homa Bay County Referral hospital deputy CEO Peter Ogola said many families in the county hide epileptic relatives at home as a result of myths and stigma associated with the condition.
Ms Awuor said another obstacle denying many victims medication is a myth that epilepsy is caused by witchcraft.
Speaking at Homa Bay County Referral hospital when they rolled out the programme, Awuor said myths and stigma are preventing many epileptic persons from acquiring medication.
"It is wrong that many people associate epilepsy with myths which prevent the victims from seeking the right medication in health facilities. This campaign will create awareness so that families with epileptic persons can take the victims to hospitals," said Awuor.
She said the campaign will be undertaken in various sub-counties in Homa Bay.
"Epilepsy can be managed with drugs to allow the victim to participate in economic growth like other people without the condition," said Awuor.
Homa Bay County Referral hospital deputy CEO Peter Ogola said hiding epilepsy victims in the county is uncalled for.
Ogola said it difficult to know the right number of people suffering from epilepsy because families hide them.
"We have realised that many families hide their relatives who suffer from the condition at home to avoid being seen. This prevents the victims from acquiring the required medication," said Ogola.
Dr Ogola urged residents to seek medication at the hospital.
"We give epilepsy drugs free of charge. We want victims to get the drugs," said Ogola.