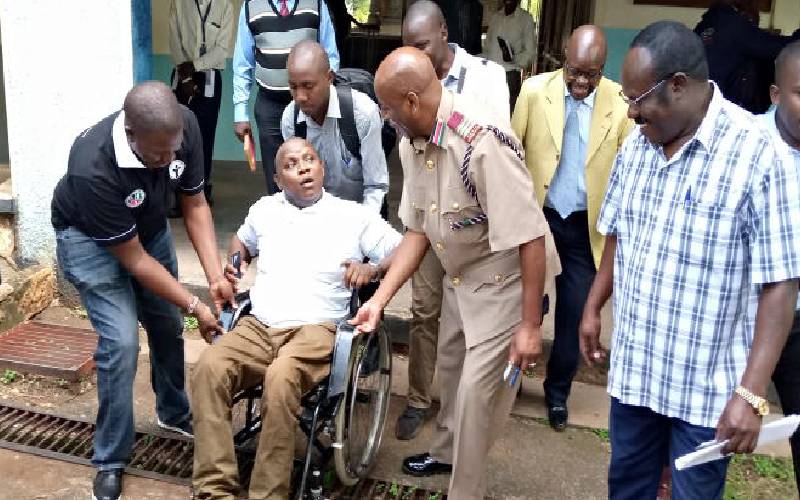 The National Council for Persons with Disabilities (NCPWD) challenged the government and the Council of Governors to make all public offices accessible to their members by fitting all buildings with ramps.
Council chairman Peter Muchiri said after being forced to meet Homa Bay County Commissioner Harman Shambi outside his office after filing to reach his first floor office with his wheelchair.
Muchiri said disabled persons are disadvantaged because many government offices lack ramps, making them unable to access them.
There was drama as people who volunteered to carry him to the office got tired due to long stairs, prompting him to call Shambi to come to the ground floor.
"I wanted to meet the County Commissioner in his office but I am unable to do so. I also express my dissatisfaction with our meeting outside his office because it is like a street talk," he said.
Read More
An exhausted Muchiri vowed to petition the Public Service and the Council of Governors to ensure that assemblies pass a law that will make it mandatory for all buildings in the counties accessible to people with disabilities.
Muchiri said he will write to the head of Public Service Joseph Kinyua and the Council of Governors Chairman Wycliffe Oparanya to ensure all government offices in Kenya have ramps to enhance accessibility by disabled persons.
"I will petition them (Kinyua and Oparanya) immediately I return to Nairobi so that both national and county governments' offices are accessed by persons with disabilities," said Muchiri.
He said inaccessibility of government offices is discriminatory and tantamount to denying citizens services.
"Inability to access a government office amounts to a violation of human rights," he said.
The chairman said contact between the service provider and a service seeker was key in service delivery by governments.
The chairperson was in a mission to supervise various projects undertaken by the council in Homa Bay county.
Shambi assured him that they will put measures to ensure the office has ramps.
"We will try to make our offices accessible for disabled persons. We want everybody to access every office in person regardless of their status," said Shambi.