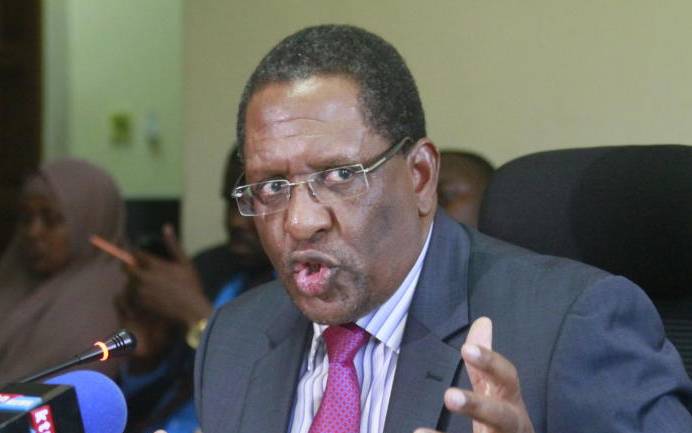 Environment Cabinet Secretary Keriako Tobiko has rekindled the Mau Forest debate by pushing for the restoration of the once powerful water tower. Speaking yesterday during the inauguration of the Kenya Water Towers Agency (KWTA) board in Nairobi, Mr Tobiko said Mau must be restored and that those who had been evicted would not be compensated. The new board will be chaired by former Kitui Governor Julius Malombe. "I suggest we move to the Mau and restore it and I will lead the effort. We should not politicise Mau," said Tobiko. He noted that the reason compensation should not be considered for those who are evicted is that they had illegally occupied the forest.
SEE ALSO: Sh1.6b compensation slows Sh5b Eldoret by-pass
Tobiko (pictured) said the Government had in the past formed five task-forces, all which ruled that people who encroached forest land were not eligible for compensation. "If we compensate those who are evicted from forest land, then even those who are charged with corruption will soon start asking for compensation. No one can plead ignorance in matters of forest encroachment," Tobiko said. "Some tell us they have title deeds, but a title deed is just a legal piece of paper while forests are our livelihood." He further averred that his support for KWTA would remain firm as long as the agency ensures the county's water towers are safe. He said forests were critical water catchment areas that must be protected.
SEE ALSO: Reprieve for 45,000 Mau Forest settlers as court halts evictions
According to the minister, Kenya' forest cover stands at a paltry seven per cent, from over 30 per cent 50 years ago, due to encroachment and destruction. President Uhuru Kenyatta has tasked the Environment ministry with achieving a 10 per cent forest cover by 2022. Acting KWTA Director General Julius Tanui said they would undertake their duties in partnership with other agencies.