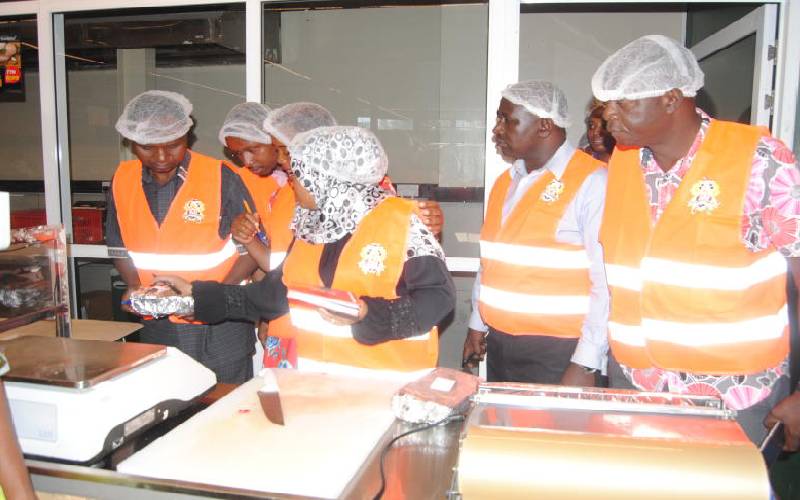 All meat outlets have been ordered to halt meat sales for three days to determine whether meat sold in supermarkets, top butcheries and consumed in hotels are fit for human consumption. Yesterday, Mombasa County inspectors collected meat samples from several supermarkets for inspection at Government Chemist in Nairobi. A team of meat inspectors led by Public Health Chief Officer Aisha Abubakar visited several supermarket where they interrogated officials and collected meat samples in the daylong exercise. Media reports have indicated that some outlets lace meat with metabisulphite, a chemical, to keep the product looking fresh for longer, hence preventing spoilage and losses.
SEE ALSO: Officials explore home-based care for Covid-19 patients in Mombasa
The use of the preservative has sparked fear among consumers and raised concerns over the quality and safety control of meat in the country. Use of such preservatives was banned in the US because it was found to cause negative health effects — running nose, itchy throat, nasal congestion and skin rashes among other other dangers. Ms Abubakar told The Standard the team would today start collecting meat samples from hotels known to buy the commodity in large quantities. "I am urging residents to stop consuming red meat from major outlets for the next three days, or so. Until we get results from the Government Chemist, we cannot assure them of the quality at the moment," Ms Abubakar said. She, however, said the county government would not collect meat samples from small butcheries, saying they bought fresh meat in quantities that were immediately sold out and hence were not suspected of using preservatives.
SEE ALSO: County sports department gets Sh500m
At one of the supermarkets, the inspection team was shocked to find empty red meat shelves as managers said they had withdrawn the product immediately after getting an alert from the county government. An official at the supermarket said they made the decision three days ago to protect the business brand. "We get supplies of red meat thrice a week, but we have withdrawn the products from our shelves until the Government carries out thorough investigations and we get feedback. We are protecting our brand and we do not want our customers to be suspicious of the red meat," he said.
Chicken and fish
The outlet was only selling chicken and fish when the team visited, with the official saying they got supplies that sold out quickly, hence not using preservatives.
SEE ALSO: Over 1,000 litres of expired cooking oil seized in Mombasa, suspected arrested
At another supermarket, red meat was on sale with workers saying they had nothing to fear.