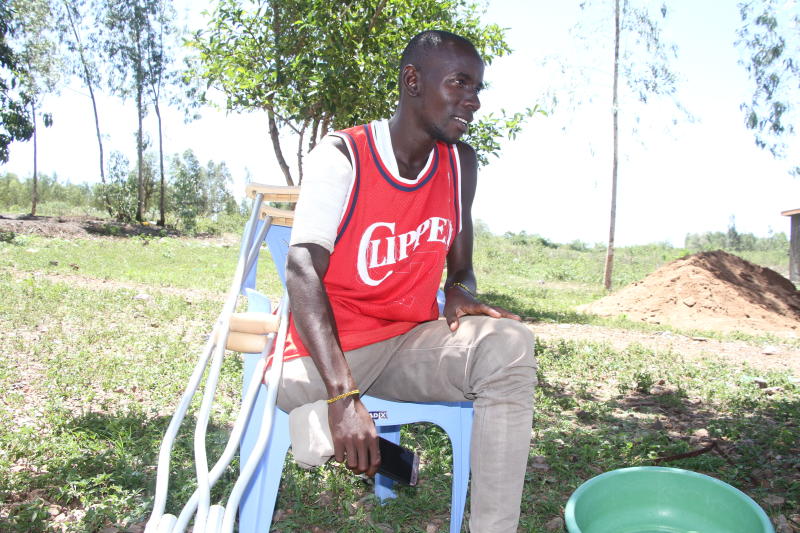 Thick dust rises from the gold mining pits doting the rugged terrains of Nyatike as diggers sweat in the sweltering afternoon heat. They have to work hard and get something to sell to the waiting middlemen, or else their families will starve. For visitors, gold mining here looks lucrative. Yet the sad tales of death, ugly scars and pain in the mines have not been told for decades. Besides the many deaths in the pits, young men have lost their limbs. Others are bedridden due to life-threatening injuries suffered in the mines. Women have been widowed and children orphaned.
SEE ALSO: No glitter for Pokot women gold
Eric Opalo, 28, now walks with the help of crutches. Until February 15 this year, Opalo was a vibrant young man who could fend for his young family with ease. His work in the mining sites earned him between Sh1,000 and Sh20,000 a day, until the day a part of the mining shaft collapsed and a huge rock fell on his left leg. He sustained fractures, and his leg had to be amputated above the knee.
Main economic activity
"I was against the amputation, but I had to give in when it appeared there was no option left to save my life," Opalo says. Today, his routine is to hover around mining sites, where his former colleagues give him a small part of their daily income so that he has something to take to his family. He is not sure for how long he will do this, given that he had dropped out of school before venturing into this business.
SEE ALSO: 544 test positive for Covid-19 as Kenya registers 13 new deaths
Opalo, a resident of Matanda in Migori County, is not the only mine worker with a sad tale. Many young men in Nyatike, where gold mining is the main economic activity, have sad stories to tell. Fatal injuries, young widows, school dropouts, heavy HIV burden and dire environmental degradation best describe the 'golden jungle'. With no regulations on the mining trade, victims of the adverse effects of the activity are abandoned, even as the State mints millions of shillings from miners and gold processors. According to government records, Nyatike alone produces approximately 10kg of gold every month, in an area where at least 50 leaching plants operate.
SEE ALSO: Covid-19 deaths inch closer to 400 as five more die
Almost every village in Nyatike has buried a young man who died after a mine collapsed on him. Such accidents have few survivors. "I assure you that every home in this village has a story to tell about this gold. If it is not a school dropout case, then an injury, health hazard, death or environmental degradation. I wish there was some control in the way this business is conducted," says Jack Okeyo, a resident of Osiri Dago. Joab Otieno, who is Okeyo's cousin, also lost a leg after it got crushed in a gold mine. Otieno, 29, a Form Three dropout, was however lucky, since three of his colleagues died in the December 12, 2016 tragedy. Otieno says they had worked in the deep shaft from morning to noon and were preparing to leave for the day, when a piece of rock detached, and the pit caved in on the six of them. Three died instantly, while Otieno and two others were rescued after two hours. "I am yet to heal completely and I have to visit the hospital often for checkups, but it is expensive given that I no longer have a source of income," he says. Five kilometres away is the home of Noah Opiyo, 32, who got paralysed when a mine he was working in collapsed on April 12, 2014 and he was spinal column was injured.
Young widows
Today, Opiyo, who has been undergoing rehabilitation for five years, can no longer effectively fend for his wife and two children. The list of victims of the activity are many in Nyatike. The tales of young widows whose husbands died in the mines are sad. With no proper rehabilitation and counselling programmes, victims are on their own. At Pap-Rombe village, six young women whose husbands died in the same mine on May 8, 2018, are yet to come to terms with their loss. Perez Aluoch, 23, is the youngest of the widows, and the most affected as her husband died when she was five months pregnant. "I am yet to recover from the loss, having been married here at a young age, and my husband was the sole breadwinner," says the mother of four. Across her fence is Judith Auma, 28, a mother of six who lost her husband in the same incident. According to Auma, her husband had been making mandazis before, but the ban on plastic bags forced him to abandon making mandazis. "Supplying the mandazis became difficult without the paper bags, and he convinced me that he wanted to join mining to avoid clashing with authorities who frequently raided his business premises to look for the bags," she says. In Osiri village, the family of Jacob Ajuoga lost three members when a mine collapsed on December 12, 2016. Ajuoga says his three sons aged between 27 and 40 all left behind young families. "Any time word goes round that a mine has collapsed, all the villagers start getting worried as there is a probability that their family members are involved. We have learnt to live with it," Ajuoga says. Erick Omondi, who runs a community-based organisation, Blue Cross, says mining has been a great concern in the area. The organisation, whose main objective was economic empowerment, is now supporting orphans and widows. "Any time an incident is reported at the mines, the number of orphans and widows goes up. These people start face challenges of education, health and other basic needs," Omondi says. He says the easy money from gold has made it difficult for children to remain in school since many of them are lured into the business. "Nobody is willing to venture into other sources of income apart from mining, despite the high risks involved. "And the government has abandoned the people, leaving them to literally operate in a jungle," Omondi said.