Woman's 'wives' fight over right to own 12-acre land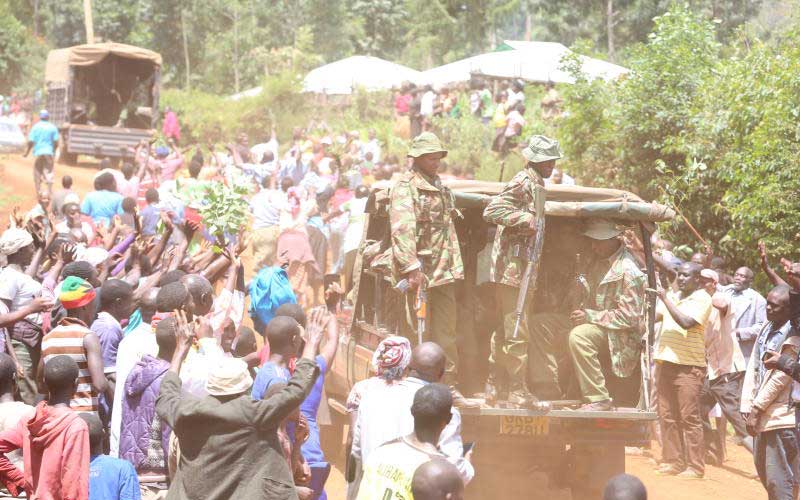 Two women who were married to a fellow woman under the Abagusii culture are embroiled in a fight over land ownership.
On Tuesday, residents of Gesabakwa village in Kisii blocked auctioneers and police officers from evicting an elderly woman from her home following a court order granted to her "co-wife".
The villagers turned up when word went round that Agnes Kwamboka Ombuna was to be evicted from her land after her "co-wife" Priscilla Ombuna obtained an order to kick her out.
The two women were married to another woman – Birita Ombuna – who has since died.
Birita was blessed with daughters only and decided to marry the two women to sire for her sons in the early 1970s.
They have since sired four sons each who are supposed to inherit the land left by Ombuna.
The two have been quarreling over land left for them by their late "husband", forcing Priscilla to get orders from the court to evict her "co-wife".
But the angry villagers accused Priscilla of unlawfully trying to evict her "co-wife" yet the land belonged to their late "husband".
They barricade the road leading to the homestead using logs and boulders to stop auctioneers and the police from effecting the court order.
A local elder, James Boraya, told The Standard that the two women were entitled to a share of the 12-acre land.
Mr Boraya said the women were married by his sister-in-law since she did not have sons to take over her property.
He said dowry was paid for both of them and therefore none should claim she has more rights to the land than the other.
"According to the Gusii culture, a woman who did not have sons was allowed to marry another woman to bear children on her behalf or one who already had sons but was unmarried in order to ensure the continuity of her generation," said Boraya.
The elder said that his brother, the late Asaeri Ombuna, and his late wife Birita were blessed with daughters only and as per the Gusii culture, his sister-in-law married the two women when her husband died because she needed sons for her lineage.
Another clan elder Samuel Nyakora said he witnessed marriage of the two women to Birita and the subdivision of the parcel of land to each one of them.
Martin Ombuna, who is a military officer with the United States Army, said he was yet to understand why their step-mother Priscilla wanted their mother Agnes kicked out of the family land.
Masaba South acting police boss Julius Mwathe told The Standard that the police had a valid court order from the Kisii Chief Magistrate Court to provide adequate security to Kimu Auctioneers to evict Agnes from the said parcel of land.
Efforts to seek a comment from Priscilla were unsuccessful as she was said to have travelled to Nairobi and was unreachable on phone.