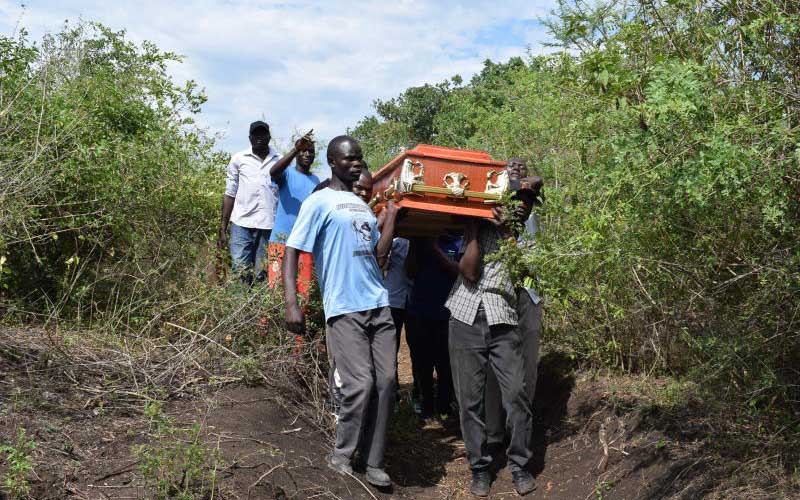 The Jubilee Government has often boasted of having tarmacked thousands of kilometres of roads countrywide. Universal healthcare is part of the Big Four agenda and access to clean water ranks high in the Jubilee Party manifesto.
But for some residents of Ndhiwa Constituency, these remain a pipe dream.
Lack of roads has locked residents of Marera and Omako Koth villages out of essential services and they are forced to walk miles to access medical care.
The villages, which have a combined population of 8,000 people, are not accessible using cars. Vehicles stop between five and seven kilometres away from the villages, depending on which side one approaches them from.
Transporting bodies from a mortuary to the village has proved a daunting task. Kin are forced to carry caskets for some seven kilometres.
A resident who spoke to The Standard said this only adds to the trauma of losing a loved one.
Steve Biko, who lost his mother Zilpa Aloo in 2012, knows this all too well.
Mr Biko, a resident of Marera, told The Standard he helped carry his mother's casket all the way home from the Homa Bay-Mbita tracked road.
The family had to mobilise friends and relatives to help them carry the body.
This, he said, added salt to the wounds in the hearts of bereaved kin.
"It was painful for me to carry the body of my mother home from the main road. The situation aggravated the sorrow that was afflicting us," he said.
Michael Ojwang', a resident, said for the 80 years he had lived in Marera, he had never seen a road. The area is represented by an MCA, MP, woman rep, senator, governor and a president, yet it does not even have a murram road.
Bushes surround the villages that sit on clay soil and areas residents use as roads have wide cracks, which make accessibility by car impossible.
Anyone visiting the villages will realise that the environment is completely different from other parts of Ndhiwa Constituency and Homa Bay County.
Energetic men
Having young and energetic men in the family is a great asset in this area because their strength will come in handy when there is death or medical emergency in the family.
"The problem comes when a family with inadequate number of young men loses a loved one. At times bereaved families have to spend more money in hiring people who carry the caskets," said Mr Ojwang'.
Wycliffe Dera recalled his experience when his brother, Julius Dera died at home in 2009.
Since the family planned to preserve the body at Homa Bay Hospital mortuary, they had to carry it for seven kilometres to the nearest road.
"We also had to carry the body back home from the mortuary because no vehicle could reach the village," Mr Dera said.
He said the experience was traumatising "not only for me but the whole family."
"(We all) suffered psychologically. It was very sad," he added.
Things get worse for residents when there is a medical emergency or a mother goes into labour.
"Residents of this area undergo serious problems due to lack of roads. We are forced to carry people who are overwhelmed by sicknesses on our backs when they cannot trek the long distance from the villages to the Mbita-Homa Bay road," said Biko.
To compound the matter, the area also suffers acute water shortage. The only available water source is a small pond, but which serves more than 8,000 people.
Two hours
To fetch water from the pond, residents queue for at least two hours, according to Zilpa Akumu, a resident.
"We have to wake up at 4am to fetch water from the pond," she said.
Kanyamwa Kologi MCA David Oloo confirmed the residents' plight and said a 12km road would be built.
Construction of the Manera-Marera-Omako Koth-Dunga road will ease residents' sufferings, he said.
"As a county government, we are going to begin opening the road next month. Ndhiwa NGCDF has agreed to partner with us in constructing the road," Mr Oloo added.