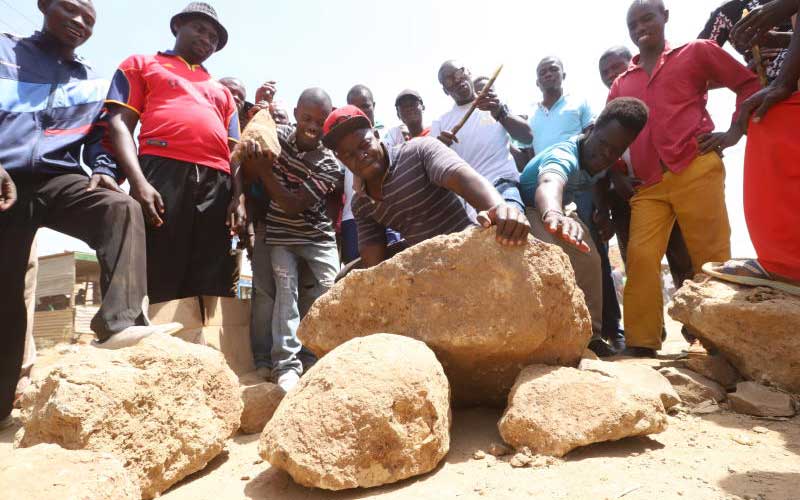 Transport along the Mamboleo-Miwani highway was paralysed for the better part of yesterday morning as residents protested at the poor state of the road.
The residents blocked the road with boulders, demanding that it be repaired by either the national or county government.
Their past attempts to get the authorities to repair the road have failed.
Yesterday, several trucks ferrying sugarcane were stuck along the road after youths barricaded it.
The youths said dust from the road was affecting their businesses.
"Even the women who sell chips and other roadside foods have been forced to leave the area because of the poor condition of the road," said Job Ochieng, a resident.
In December, when President Uhuru Kenyatta visited the area to launch the Universal Health Coverage scheme in Kisumu, the road was partially gravelled and watered by the county government.
However, the situation has worsened as heavy trucks frequently use the road.
The residents complained at what they termed as laxity by the two levels of government to address the issue of the road, which they said had been neglected for years.
Josephine Gowi, a resident, said there had been no effort by the national government to repair the road.
She noted that the area was losing a lot of money due to the poor state of the road.
"We do not know what is happening. All agencies we have approached say they are not responsible," said Ms Gowi.
Matatu operators said they have had to increase their fares.
Few vehicles
Boaz Ochieng, a conductor, said operators were losing millions of shillings on repairs. He added that only a few vehicles operate on the route.
"The Government has neglected the road even though the region is attracting a lot of investments in real estate," said Mr Ochieng.
County Executive Committee Member for Roads Thomas Ondijo said the road was under the Kenya National Highways Authority.