Kenya and Uganda team up to clean up Lake Victoria and boost transport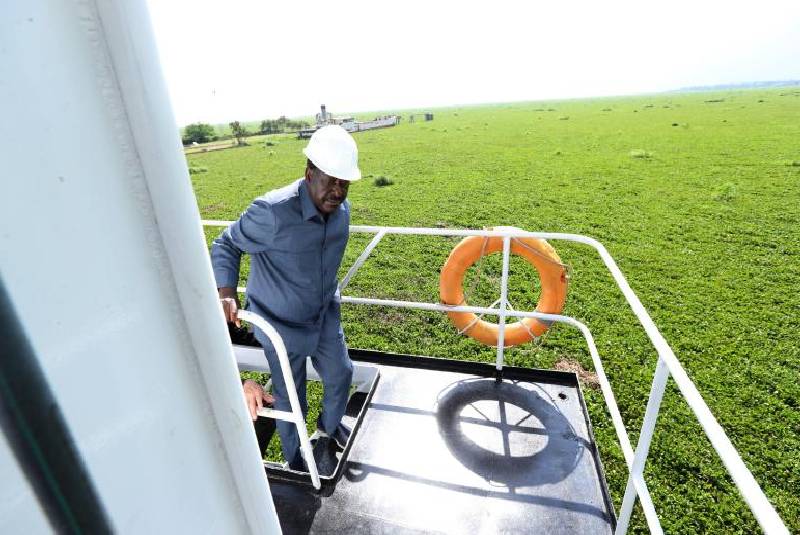 Opposition leader Raila Odinga says his handshake with President Uhuru Kenyatta is changing East Africa's political and development agenda.
Raila said they took a deep gamble but are happy their initiative has now brought a new dawn in regional politics. The opposition chief told critics to read the signs of the times.
As a result of the unity pact with President Kenyatta, Kenya and Uganda had found a new working front, which he said has excited investors.
Raila was speaking at the Kisumu Port yesterday when he launched a 4,000 tonne dredging machine meant to clean up the heavily silted port.
Uganda is set to play a major role in the reactivation of Kenyan ports in Lake Victoria.
Raila and the deputy chairman of Ugandan ruling party, the National Resistant Movement (NRM), George Michael Mukula shared a podium in Kisumu during the launch.
The former premier said what seemed to have been a simple handshake has played a role in the fresh relationship between Nairobi and Kampala.
Yesterday, Raila said after the handshake, Kenya approached President Museveni to discuss the role of Lake Victoria in the cross-border trade, with revitalisation of the once vibrant ports taking centre stage.
Raila said the handshake marked the beginning of a new political and economic front, with Museveni embracing the idea of the new beginning.
During last month's visit by President Kenyatta, area leaders fronted water hyacinth menace as one of the hindrance to the exploitation of the lake's resources.
Trade partner
"We contacted President Museveni and we discussed how to team up in order to deal with this menace and recreate the lake transport here in Kisumu," he said. Uganda, which is considered Kenya's biggest trade partner, is set to benefit in the new deal, which will see oil, cargo and people transported through the lake across East Africa. Raila said the dredger will dig an 80 metre wide carnal, 63 kilometres long from Kisumu to Mbita to make it possible for bigger ships to access the lake's shores