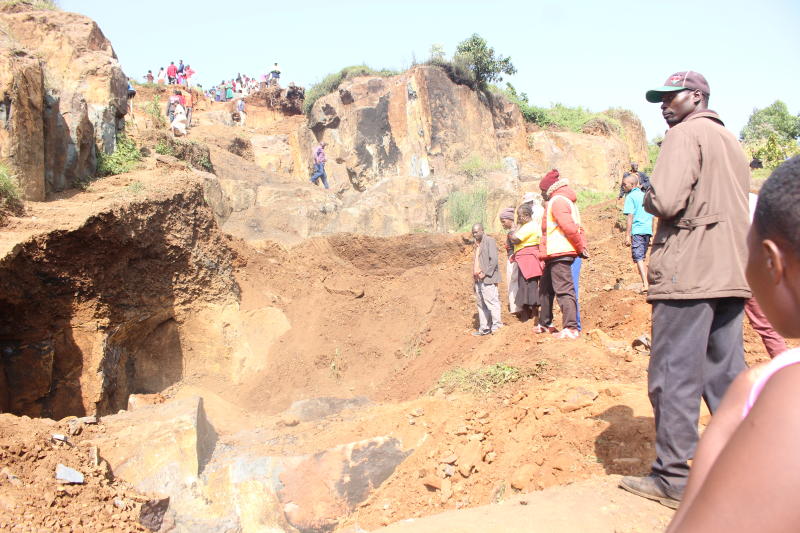 Two quarry workers died yesterday when a quarry wall caved in at Getare village in Bonchari constituency.
Douglas Ratemo and Daniel Okero, both aged 35, were crushed by a large stone a few minutes after they reported to work.
Workers participated in the rescue operation after the 8am incident.
Kisii South Assistant County Commissioner Kipkoech Kigen ordered the site closed to ascertain its safety.
"We will consult other government agencies before issuing further directions on how mining activities will be conducted in this area. We have to take precautions to avoid such deaths in the future," said Mr Kigen.
Mr Okero's brother Evans Onsarigo said the victims were friends who had been working together for a long time at private quarry sites in the area.
"They have been working as casual workers at the site. It is painful that we have lost young souls. This is a delicate exercise and the Government should intervene and have it regulated," said Mr Onsarigo.
Richard Ratemo, a witness, said concerns had been raised about risks in mines in the area.
"Those willing to continue with mining in this area should first ensure their safety. Those who have employed our youths should think of improving the working environment," said Onsarigo.
The authorities had expressed concern that several unregulated quarries posed danger to miners and those living nearby.
Most quarry owners do not provide their workers with safety gear.
A month ago, Bobasi MP Innocent Obiri was arrested and charged in court after he visited the area and questioned the mining practices.
Mr Obiri expressed concern about the impact of the mining activities on the environment, saying the use of explosives had caused cracks on adjacent buildings.
Casuals workers are paid Sh300 a day, yet a tipper of ballast goes for Sh10,000, making the business lucrative for the mine owners.