Police smoke out man with 613 rolls of bhang, 185 litres of chang'aa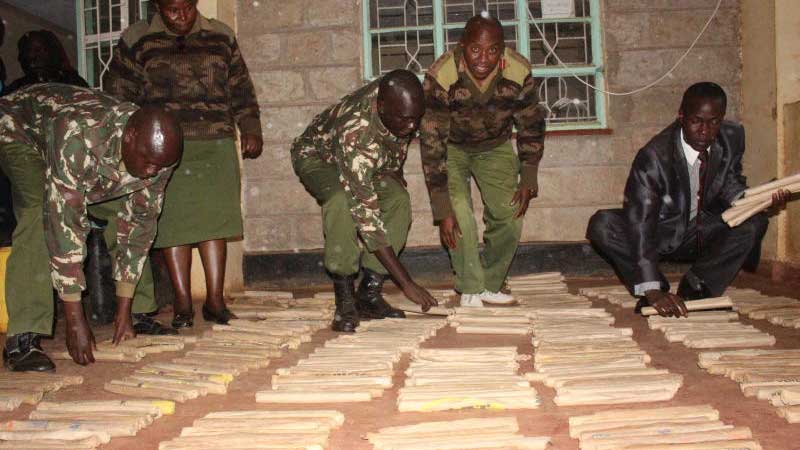 Police in Masaba South, Kisii have arrested one person with 613 rolls of bhang and 185 liters of chang'aa.
Area Deputy County Commissioner Edong'a Nanok said they had been trailing the suspect for close to two weeks.
A team of Administration Police officers from Masimba and local administration led to the arrest of the suspect.
"We are pursuing the main suspect who has been hawking the drugs to youths within Keroka town and its environs. We will not relent until all suspects are brought o book," said Nanok.
Yesterday, Kisii County Commissioner Mr Godfrey Kigochi told the Standard in his office that they suspected the drugs were being transported from the neighboring country.
"We are doing everything possible to end this menace. We will not sit and watch as youths engage in drug abuse and trafficking. Everybody in the society should endeavor to fight such a crime," said Kigochi.
In April this year, police from Rioma in Kisii seized bhang worth Sh5.5 million from a homestead in Bochura, Kitutu Chache South Sub-County.
County police boss Abdi Hassan confirmed that eight suspects among them a woman had then been arrested during the raid.
Rioma police boss Caleb Weza said his team had raided the home following a tipoff from the public, promising further investigations to nab the more culprits.
National Agency for the Campaign against Drug Abuse (NACADA) Nyanza Regional Coordinator Father Lawrence Nyaanga called on relevant Government agencies to intervene and have the real culprits arrested.
Nyaanga explained that some people were taking advantage of the poor and jobless youths to sell them hard drugs right into the town's central business district.
"We cannot sit and watch as the society turns into Sodom and Gomorrah because of illicit brews. We must act now. It is like villages are turning in to changa'a dens," said Nyaanga.
In a 2011 report, NACADA says alcohol and drug abuse are the major social problems in Kenya, with serious public health ramifications.
NACADA estimates that half of all alcohol and drug abusers in Kenya are below 20 years old.