Rape victim turned away at a hospital in Kisumu for failing to raise Sh30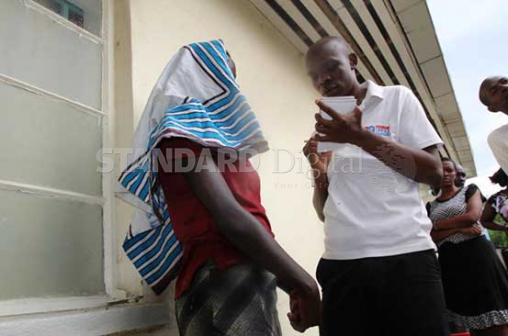 A teenager who endured a horrific eight-hour rape ordeal was turned away by a sub-county hospital and denied a basic examination because she could not raise Sh30 for a card.
Although the 17-year-old was finally treated on Thursday after well-wishers intervened, concerns have been raised that the delay might have interfered with evidence.
The police are also in a spot for failing to investigate and apprehend the suspects, four days after the crime even though the girl positively identified two of her attackers.
The girl, an orphan and a Class Seven pupil was heading home on Tuesday night from a nearby hotel in Kisumu where she works as a casual labourer when two men on a motorbike grabbed and placed a knife on her throat.
She told the Sunday Standard that the suspects rode to a rented house in deserted compound in Ahero town where four other men joined and raped her.
"I screamed for help but they hit and placed a knife on my neck, threatening to kill me if I made more noise," she narrated amid sobs.
At around 5am, the men ordered her to soak her clothes in water and wash the blood stains that had spilled on them.
They later blindfolded her and led her out of the house before leaving her in an open field. "I stayed there till morning, because it was too dark to try to do anything or even go anywhere," she said.
She says she went to seek treatment at Ahero Sub-County Hospital where she claimed to have been told that she could not be treated if she did not buy the treatment card worth Sh30.
On Thursday morning, the victim could not bear the pain and anguish anymore. She reported her ordeal to the Nyando sub-county Nyumba Kumi initiative chairman Hezekiah Omanga.
The chairman of community policing said the girl was shaken and in shock. Yesterday, however, both the hospital and police denied turning her away.
The facility's administrator, Joshua Maganga, said although the hospital has a policy where patients pay Sh30 for medical cards, the girl was not asked for the same.
Attempts to reach the OCPD for comment remained futile as he did not answer calls and messages.
To fight drought, involve communities
According to the latest information from the Meteorological Department, rainfall will be poorly distributed in April, May and June, and this will have a serious impact on agriculture