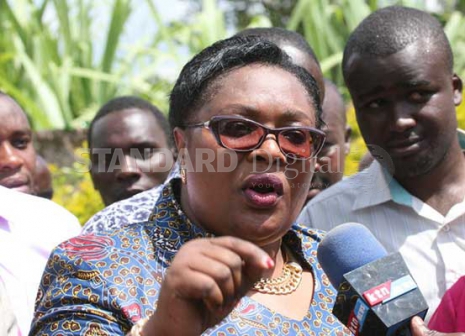 Kisii woman representative-elect Janet Ong'era came to the aid of a Kisii based blogger Olivia Kabwasi Morara who was arrested on Sunday over claims of hate speech.
However, the freedom was short-lived after police whisked the pro-NASA blogger to unknown police station shortly after Ms. Ong'era settled a Sh50,000 bail to secure her release.
The legislator says she went to Kilimani police station in Nairobi where the lady was detained and demanded her release.
"We have managed to pay her cash bail but astonishingly the police have re-arrested and whisked her away to unknown place. We don't know which charges they have on her or the police station she has been taken," Ms. Ong'era said.
Olivia who uses the name Kabz Nyar Kisii on Facebook was picked from Kisii on Sunday by flying squad police officers who transferred her to Nairobi under heavy security.
Initially the police informed her that she was facing serious crimes but later said they will charge her with hate speech and incitement.
"She is accused of hate speech but ironically the complainant has not been disclosed. We believe this is intimidation targeting our supporters and we will not allow it," Ms. Ong'era said.
Olivia has been posting several comments on her Facebook page, most of them critical of President Uhuru Kenyatta's administration.
The last post of her Facebook was Sunday at 2.45 pm stating; "Have been arrested. Taken to Nairobi," and another on Sunday night "At Kilimani Police Station."
Before that, she had posted several comments about receiving strange calls of people asking for her details. She later claimed that those who were calling her line were state agents.
"Have received a very disturbing call. This fool has my two official names and he is pretending to be my area chief by the name Ombui. Unfortunately he asked kwetu ni karibu na wapi hapo Riosiri and the names of my Dad. I lied about my dad's name na place natoka tho ni karibu na kwetu. He asked about my siblings too. .. I never gave out their details. Sasa anataka niendee forms za kazi I apply as if I contacted him. Kwanza the name of my chief sio Ombui ni Elijah from the true caller his useless name is Shah Patel," a post from her Facebook on Saturday night stated.