Yala residents don't want Dominion Farms to close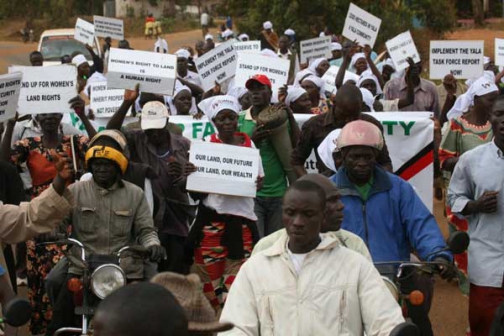 Several residents of the Yala swamp region have defended an American investor who is embroiled in a spat with local politicians after he accused ODM leader Raila Odinga of attempting to extort money from him.
Those living around the area, where Dominion Farms, owned by American Calvin Bergess, are set up, said that although the company had reneged on some of its promises, it had improved their lives and should not leave.
They want the differences between the investor and politicians sorted out so that they do not interfere with operations at the farms.
"We don't want Dominion Farms closed. Instead, the management should actualise the promises it made in the MoU it signed when setting up here. We want a sober discussion about this matter. The owners of the farm should be told when they have done well and when they haven't," Mr Kennedy Ochieng, a resident, said.
Ochieng, from Kadenge Ratuoro said it would be a bad idea to ask the investor, whom he insisted had improved the area, to leave.
"He has improved opportunities and what we want is for the farm's management and leaders to establish the genesis of the row and resolve it without interfering with the operations of the farm as this would affect many residents who work there," he said.
However, Ochieng accused Dominion Farms of causing the residents pain. "Lake Kanyaboli is quickly drying up because the management of the farm has rivers that empty into the lake," said.
He added: "The investor does not pay salaries on time. Sometimes workers go for months without pay and this has affected the employees, some of whom end up being kicked out of their houses due to nonpayment of rent."
Last week, Burgess, the farm's chief executive, accused Odinga and local leaders of trying to extort money from him.
In a 22-page statement, Burgess detailed what he termed the frustrations he has endured since he established the farm in the county in 1999.
Burgess accused Raila of demanding money to fund his campaign for the 2007 General Election.
But opposition MPs, including ODM chairman John Mbadi, have accused Burgess of allowing himself to be used by Jubilee leaders to discredit Odinga ahead of the General Election.
Another resident, Mr Dancun Owino, said: "The investor should not be made to leave. However, all the issues that have been raised, including the MoU in which he promised roads, schools, and other facilities, should be addressed."
He added: "This investment has helped us but there have been challenges as well. However, we prefer that any issues are sorted out without forcing the investor out because we will suffer if he closes shop."
Mr Peter Omondi accused Dominion Farms of taking back portions of land it had initially given to locals to cultivate and graze their livestock.
Thirty-year-old Omondi also accused the management of mistreating residents who work at the farm as casual labourers.
FULFIL PROMISES
"When I worked at the farm two years ago, some workers were left out when those with whom they had joined Dominion were promoted. Most of those who benefit from the promotions are relatives of senior county government officials," he said.
Recently, Governor Cornel Rasanga accused Dominion Farms of failing to fulfil the promises it made to residents and claimed that the management was now looking for excuses to leave.
He also accused the management of diversifying into other cash crops, including sugarcane farming, without consulting stakeholders.
Gem MP Jakoyo Midiwo said it was unfortunate that Burgess was trying to depict Odinga as a corrupt leader. "Burgess must go with immediate effect and he should have left yesterday. He is a con man. We need to know how he left Ghana. We don't need him in Kenya," he said.
The county assembly has denied claims that some of its members were frustrating Dominion Farms.
Speaker George Okode said the MCAs have tried to cultivate a good relationship between the farm and residents after the local people complained that the investor was frustrating them.
"We have not frustrated any investor. We have only been out to ensure meaningful investment and creating the right environment. Locals raised concerns about flooding and that those found on the farm were being arrested. They also complained their land was being grabbed and these are the issues we sought to address," Okode said yesterday.
He asked a house committee to asses the progress of implementing a 2015 report that recommended that the investors hand over 3,000 acres to the residents.
Snooping on citizens' phone calls not uncommon worldwide
Governments globally from such democratic states as the US to dictatorial regimes such as China's Communist Party, once in a while snoop on their citizens telephone conversation, mining for what they believe is important information.