Fishermen find more than 800 live bullets in Lake Victoria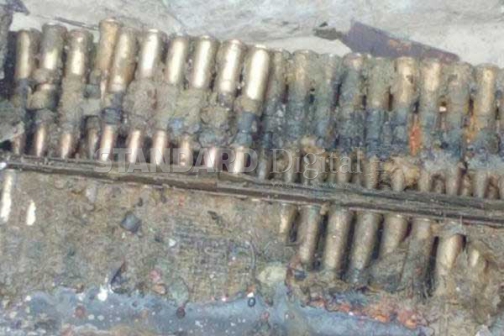 Police now believe the Kenya's side of Lake Victoria could be teeming with live bombs and other weapons and are asking fishermen to take caution while working in the waters.
This follows an increase in the discovery of deadly weapons over recent months believed to have been dumped during the two World Wars.
On Thursday, fishermen in Homa Bay stumbled on more than 800 live bullets while on a fishing expedition.
The bullets were discovered a t a shallow part of the lake near Litare Beach on Rusinga Island. The bullets were packed inside a metal box.
According to Litare Beach Management Unit (BMU) Wilson Nyajwaya, the fishermen thought they had come across a precious metal in the Lake.
Others felt they had got a big fish amid scepticism because their net was not meant for big fish.
"Omena is usually light but we were surprised because the net was extraordinarily heavy," said Nyajwaya.
Nyajwaya said they had a difficult moment pulling the net to the shore of the Lake.
Mbita OCPD Wilson Nanga who led a team of police officers to the scene said the box contained more than 800 bullets.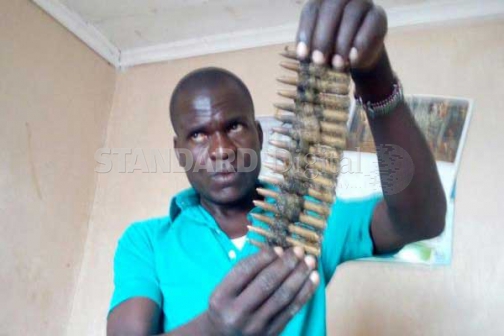 Nanga said the bullets could still be used in a gun to shoot.
"The metallic box had rusted, showing it had stayed for many years in the Lake. We have tested and discovered that the bullets are live," said Nanga.
The OCPD said they took the weapons and kept them at Mbita police station to avoid being mishandled by the public.
"We cannot leave these bullets in hands of the public because they can turn disastrous if some of them decide to misuse them in jeopardizing peace," he added.
Recently, there have been occasions when bombs have been discovered in Lake Victoria.
Fishermen have fished out five live bombs from Lake Victoria, bringing to 11, the number of deadly ammunition discovered from the water source in the past two months.
A few years ago, a Standard Six pupil died on Rusinga Island after a bomb he was playing with exploded on him. The boy had no knowledge that the matalic object earlier recovered from the lake was actually a bomb.