Kogelo villagers upbeat on their 'son's' legacy, to gain more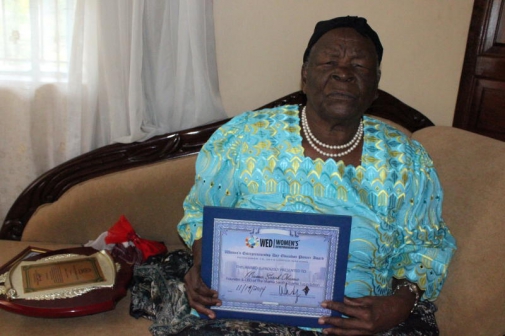 Nyangoma Kogelo – the once sleepy village in Siaya County where outgoing US President Barack Hussein Obama traces his ancestral roots – remained calm as their son prepares to leave office, hundreds of miles away.
Thursday, President Obama's grandmother, Sarah, spent the day in her house where her handlers said she was following her grandson's preparations to hand over power to his successor Donald Trump on television.
They said Mama Sarah has become a big fan of international TV channels ever since her grandson ascended to power.
"She cannot speak to the media. She is a bit tired and is following the goings on in America," said one of the handlers, who sought anonymity.
In an earlier interview, Mama Sarah had told The Standard how President Obama had made him meet with local and internationals leaders and celebrities.
"I have slept in some of the best hotels in US and Nairobi because of my grandson. I have also travelled in big planes and dined with presidents," she said.
The local township was unusually quiet Thursday, unlike on November 5, 2008, when Obama made history by becoming the first Black American to become the 44th president of the world's most powerful country.
On that day, more than 80 bulls and hundreds of goats and chicken were slaughtered as Kogelo village celebrated Obama. This is the village where his father Barack Obama Snr grew up herding goats and walking barefoot to local schools.
Ohangla musicians sang endlessly for long hours as big television screens mounted by the Standard Group beamed results of the US elections. Tourists and history researches flocked the tiny village to learn more on the family.
The expectations were high and every villager had instantly became a relative of the newly elected President. Many envisaged a new life full of comfort and riches.
Thursday, the villagers spoke fondly of the outgoing President who they said had brought fame to their once sleepy village.
President Obama's uncle, Said Obama, said they will miss his presidency.
"He has made us proud as a family. I know people were expecting much but he is leaving a rich legacy, not only to us in Kogelo but the whole world," said Mr Said.
He added: "He was the President of America so we didn't expect him to meet all our needs. I am sure he will do more for us when he is out of the White House. He assured us he will visit us here."
Said said the Obama presidency however gave them goodwill.
"It opened doors for us. It was a big name and it helped us to reach out to many other friends and the Kenyan government," he said.
During the Obama presidency, the government built a police post just next to Mama Sarah's home, tarmacked the Ndori-Siaya road which passes through Nyangoma market and another feeder road leading to Mama Sarah's home. A bore hole was sunk for Mama Sarah and her home put on a 24-hour security surveillance.