Nyanza MPs welcome talks with Mudavadi, but say Raila still in race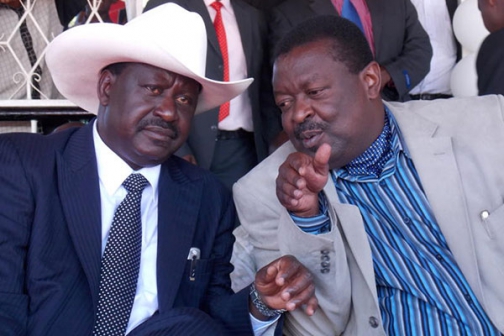 KISUMU: Proposals to have ANC leader Musalia Mudavadi run as the Opposition presidential candidate with Wiper leader Kalonzo Musyoka as his running mate have stirred mixed reactions.
While some welcome the proposal, others dismiss it as an "outrageous" scheme aimed at frustrating CORD leader Raila Odinga's presidential bid.
It was reported in The Standard on Saturday yesterday that some CORD insiders are proposing Mudavadi be the coalition's candidate with Kalonzo as his running mate.
Yesterday, Nyanza MPs who spoke to The Standard on Sunday claimed at no point had Raila indicated he would not run.
Gem MP Jakoyo Midiwo, also the Minority Chief Whip in Parliament, said Raila is still the best Opposition candidate and that voters should stay firmly behind him as they reorganise CORD.
"Actually we are in the mix up of political realignments and it is too early for people to make up their minds," he said.
Midiwo said the Opposition was still exploring viable options of political alliances and that should not be misconstrued to mean Raila shying away from the race or endorsing anyone.
"We are just trying to find a good group of people to fly with, and we welcome all to our fold," said Midiwo who is optimistic that Raila has the political mantra to take on Jubilee presidential candidate Uhuru Kenyatta in 2017. Kisumu Deputy Governor Ruth Odinga wondered who is pushing the Mudavadi agenda, saying: "I am an insider but at no time has he hinted to me about this. He confides a lot in me and I have not heard about this." She disclosed that Raila had spent a lot of resources to consolidate grassroots support and would not let up easily.
ODM Chairman John Mbadi dismissed as "black propaganda" news that Raila was considering quitting the presidential race. "The fact that we are wooing more people to our alliance to form a formidable force does not mean otherwise," Mbadi argued.
Shortchanged
The opposition, he disclosed, had opened its doors to many people who felt shortchanged or were tired of the Jubilee administration.
Nyando MP Fred Outa said Raila was in the race and anybody thinking otherwise was "merely daydreaming".
However, Ugenya MP David Ochieng declined be drawn into the matter saying: "For us, whatever the party clientele agrees on and tells us to follow is exactly what we will do. So we are waiting for the party's verdict."
The opposition MPs were happy that many politicians were joining CORD but said it was still too early to endorse flag bearers.
"They are most welcome to join us and when the right time comes it's the people who will dictate to us who should get what, where and when in distribution of the party slots and final verdict on who will face the Jubilee candidate," said Midiwo.
ODM Director of elections Junet Mohamed told The Standard on Sunday that it is only the people who can "retire Raila" in politics and not any one "but the people haven't said they don't want him per see".
Mohammed said the sovereignty of the people's will won't be scuttled by political elites with vested interest. "I can tell you that Raila is in the race for 2017 and nothing will gag him".
"He will not be pressured into dropping his bid by anyone. Only the people can stop him. He is firmly in the Presidential race," he said. Political scientist Dr Adams Oloo questioned the rationale behind saying Raila should retire, while it was evident that the opposition leader was busy muckraking round the country campaigning for the presidency.