Std 5 girl killed, scores displaced by floods in Migori
A class five pupil was swept away by floods as heavy rains pounded Awendo and Nyatike areas of Migori County.
In Kwanza area of Trans Nzoia County, at least 300 families were displaced after River Sabwani burst its banks following days of heavy rains.
Residents of Nyatike and Awendo say heavy rains flooded their homes and washed away crops, leaving behind a trail of destruction.
The pupil, identified as Maureen Akinyi, was swept away by the raging waters on her way home from Nyoroa Primary School on Tuesday.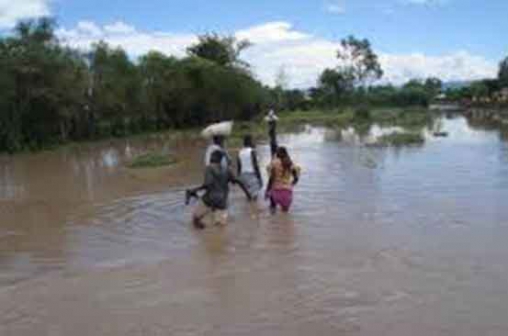 Efforts are still underway to recover her body, even as the heavy rains continue to pound the flood-prone area.
In Awendo, residents were shocked when River Sare burst its banks, forcing them to abandon their homes and move to higher ground.
Marooned
The residents, who have lived by the river for more than 20 years, said they had never been forced out of their homes by flooding before.
Hesbon Odanga, an elderly cobbler, found his home surrounded by water when he returned in the evening.
"I received a call from my son who informed me that our homestead had been surrounded by water. When I got home, I could not believe my eyes. The water flooded into the huts, everything was lost," he said
Caren Achieng' had to take her children to a friend's house for the night.
"We are stranded and are relying on well wishers for food and other essentials since the floods swept away all our belongings," she said.
In Trans Nzoia, Deputy Governor Stanley Tarus flagged off two lorries ferrying Sh5 million worth of foodstuffs, clothing, mattresses and other donations to victims displaced by floods last week.
Heavy rains swept the county last week, displacing families living near River Sabwani in Maridadi.
Dr Tarus said the floods also destroyed crops and killed livestock. About 320 affected families are camping at churches and schools in higher grounds.
"We will also be introducing a toll-free number where county and Red Cross officials can be alerted for a quick emergency response," he said.
The deputy governor said the county government would work with the Kenya Red Cross Society to mitigate the effects of the floods. Red Cross, he said, had already provided tents to shelter the victims.
"The rains we have received over the last few days are above normal. We are calling for well-wishers to partner with us in supporting those affected," he said.
Tarus said two dams, Marinda and Ngen'ge, had burst and that the county administration had directed the Lake Basin Development Authority (LBDA) to rehabilitate them.
To prevent water-borne diseases, the county's Chief Health Officer, Maurice Wakwabubi, said they would provide free chlorine for residents to treat their water.
Dr Wakwabubi also advised residents to sleep under mosquito nets to avoid getting malaria.
Peter Wasilwa, one of the displaced victims, said floods were a perennial problem and asked the government to find ways of stopping the flooding or relocate residents.