Misery as family buries stone in place of kin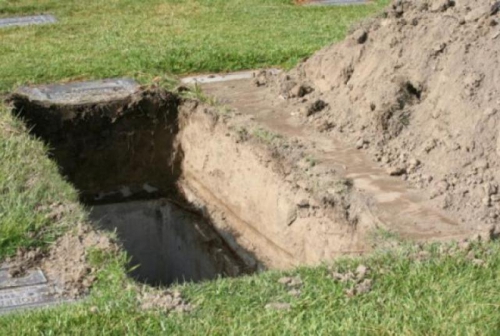 A family was forced to bury a stone instead of the body of their kin.
The body of Priscah Oyier Ojuju, 70, was buried in Tanzania where she had gone to attend the burial of a relative. Priscah is said to have fallen sick in the foreign land. She was reportedly taken to a nearby dispensary, where she died after two days.
Her family back in Kenya, at Got Kachola ward in Nyatike sub-county, said they received news of her death and went to pick her body for burial, only to be told by Tanzanian authorities that they could not release the body because she died of cholera.
Ojuju's distraught family was at pains when narrating how they pleaded with the Tanzanian authorities to release her body for burial.
"When we got to Roria district in Shirati, we were taken to Utegi dispensary, where her body was. We were only allowed to view her body and it was buried inside the dispensary's compound. They said she died of cholera and that patients who die of the disease are buried inside the compound," said William
Oketch, her step-son. George Kapombe, her brother from Tanzania, who had come for the burial, said it was strange that a stone was being buried, saying such was unheard-of in Tanzania.
"Our sister came home to attend a burial. However, she fell sick and died. In our country, it is a law that anyone who dies of cholera is buried immediately and within the hospital if he or she dies there. This is to avoid contamination," Kapombe said.
An elder at the home explained that according to Luo customs, when someone is buried away from home, a stone is picked from her grave and brought home, where it is wrapped in his or her cloth and buried.
A stone picked from Ojuju's burial site was buried in her compound at Got Kachola in a low-key ceremony attended by her family members, both in Nyatike and from Tanzania, a few villagers and church members.
However, the church, which was conducting the ceremony threatened to boycott if the family went ahead to bury the stone, terming it unchristian. It took the intervention of elders, who insisted that customs and traditions must be upheld.