Homa Bay Governor warns unethical health staff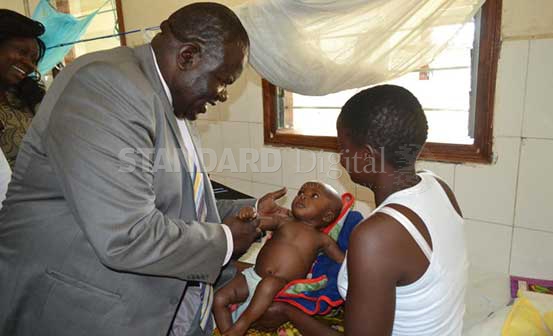 HOMA BAY: Health workers who mishandle patients and steal drugs from hospitals risk being dismissed, Governor Cyprian Awiti has said.
Speaking at Suba, Ndhiwa and Kendu Bay sub-county hospitals where he donated new ambulances to help improve health care in the county, Mr Awiti expressed concern over increased complaints from patients being mistreated in public hospitals besides being denied drugs.
He directed hospital management teams to take stern measures against staff who steal drugs to stock their private pharmacies.
The governor said the county government had stocked all its hospitals with drugs but noted some of the health facilities quickly ran out of important drugs because of theft.
"What I have said is a directive rather than a plea. I will make impromptu visits to all hospitals to ensure this directive is executed so that we have health staff who are ready to serve our people," said Awiti.
Deputy Governor Hamilton Orata challenged the hospital management teams to utilise the ambulances to save lives.
"We are not giving you these ambulances only for transferring patients to Homa Bay County Hospital but we want you to use them in improving health care within the sub-county health facilities because our aim it to decongest the county referral hospital," Mr Orata said.
Awiti also promised stern action against health workers whom he said harassed patients seeking their services.
"My reports reveal some health workers are very rude when handling patients, especially expectant women, hence discouraging them from visiting hospital. Medical staff must treat patients as clients and use friendly language," he said.
The governor said the county government would build a mortuary at the Ndhiwa sub-county hospital.
"We will also complete the mortuary at the Suba sub-county hospital," said Awiti. He said the county will also start a medical training centre at Suba and Kasipul sub-county hospitals with first intake expected in September.
Awiti also directed the Executive Committee Member for Health Lawrence Oteng to ensure an X-Ray machine is installed at Ndhiwa sub-county hospital.
He warned contractors working on hospital projects that they would not be paid their dues for shoddy work.
"We will not compromise on quality. Contractors who fail to meet our expectations should not expect any payment," said the governor.
He also announced that government would construct a leather factory in Ndhiwa.
A private developer, he said, was also planning to build a fish processing company at Sindo in Suba sub-county.