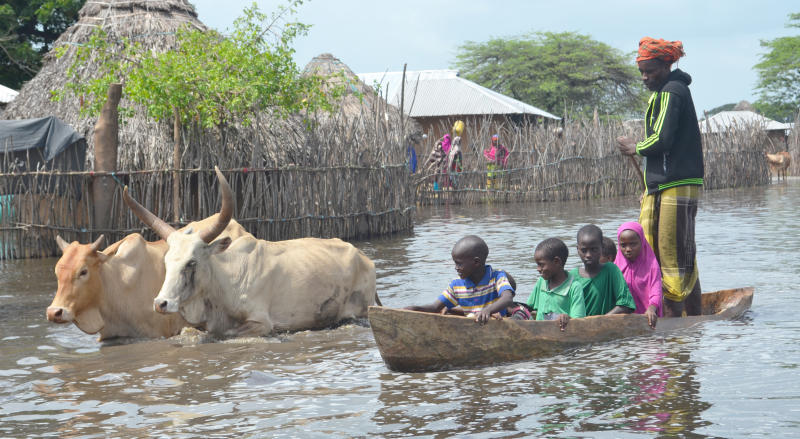 Residents of Tana Delta in Tana River County have not enjoyed the festive season this year as a result of the floods that have hit the area.
Some of them have been marooned in their villages for the last two months and are blaming their misery on the county and national governments, which they accuse of neglecting them.
Hundreds of those affected have been left homeless and poor. Aside from losing their homes, the floods have swept away their sources of livelihood, including livestock and crops. Several schools were also destroyed, leaving residents looking at bleak options when the school term resumes in January.
Some of the homes destroyed by the floods had been constructed by the Kenya Red Cross Society.
Local leaders say while climate change was to blame for the flooding, the two levels of government must work together to provide a lasting solution and ease their suffering.
Remaining silent
Speakers at a conference of local professionals in Garsen Town yesterday asked the national government to erect dykes in areas prone to floods.
Garsen MP Ali Guyo, while addressing the meeting, accused the national government of remaining silent whenever floods affect the county.
"Why can't the government build dykes in Tana Delta the same way it did in Budalang'i to stop or at least minimise the effects of floods? Our people should not be allowed to suffer like this year in, year out," he said.
There is already a humanitarian crisis brewing in the area after an outbreak of water-borne diseases, including dysentery and malaria. Locals fear an outbreak of cholera and say there has been no intervention from the government since the flooding started.
The worst-hit areas include Mwanja, Odole, Samicha, Handaraku and Sogan villages.
These areas can only be accessed by canoes; the local community has no boats. However, most of the residents cannot afford to hire canoes, which means they have not left their villages for months.
Mwanja village, for instance, had 350 households before 150 families moved to safer ground before floods submerged their homes and destroyed their crops. The rest remained.
Mahmud Kuno, a resident, said they feared moving out of their homes as they would "lose our resources, yet we still suffer when we stay", describing the catch-22 situation for many families.
Kipini West MCA Musa Wario, whose ward is completely submerged, said the situation was worrying as the locals have no food or shelter and cannot also access health services.
"We were hoping the government would come to our rescue, but we are yet to get any help and our people are suffering," he said.