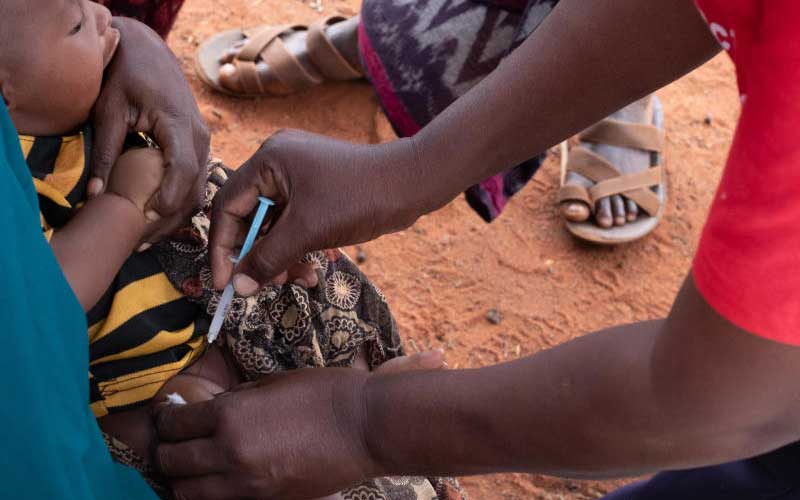 Rukia Ahmed's one-year-old gets four injections at once under a tree at El Yunis, 40km from Wajir town. This is the first time the child is being immunised after birth. The outreach supported by humanitarian organisation, Save The Children, provides hope for many members of the nomadic community. Ms Ahmed and her family live about 60km from the nearest health facility and with constant movement in search of water and pasture, health is on a back-burner, leaving many children uncovered by crucial services like vaccination. "When I have money I just hire a vehicle and we all travel to have all the children injected then we go back home, but it costs a lot of money," she says.
SEE ALSO: Driver vanishes with politician's Sh2.1 million in Nairobi
This year though, she has a reprieve after the outreach, which is conducted in the village every two weeks, was initiated.
Infrastructure
Ahmed's story is common in Wajir County, where immunisation average is way below the national average of 79 per cent, according to the Kenya Health and Demographic Survey (KDHS) 2014. With a vaccination reach of 56 per cent, Wajir is one of the counties performing poorly as far as this critical health service is concerned. However, this is an improvement from 2013 when it was at only 34 per cent. Dr Dahir Somow, the County Director of Health, says this reality can be attributed to several factors, including poor social determinants like poor road infrastructure, insufficient food and poor education. "If you add these to the vast area supposed to be covered by health services then the situation gets bad but as a county we have tried to get more children immunised," says Somow. West Pokot County has the lowest level of immunisation, according to the KDHS 2014. This is followed by Mandera then Wajir.