I'm not the one in the sex tape, Wajir woman rep speaks out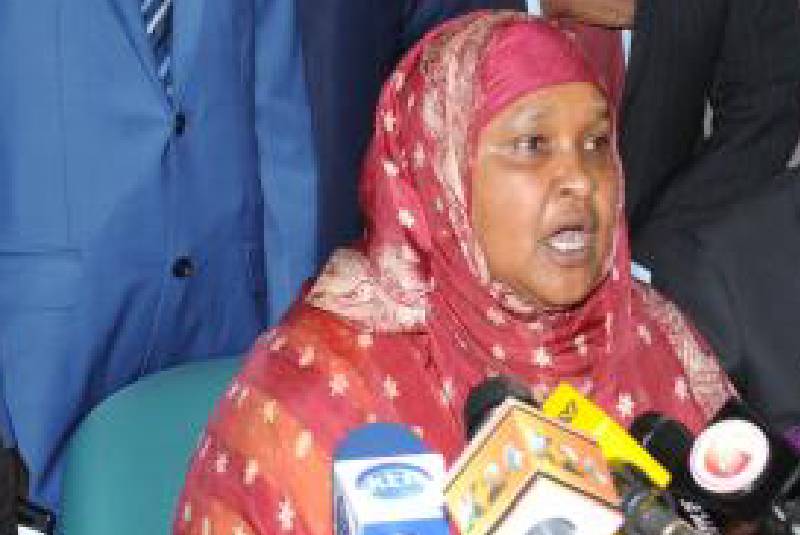 The Wajir county woman representative has for the first time spoken about a sex tape alleged to be hers.
Fatuma Gedi spoke in Wajir at the weekend when she hosted a free medical camp for people living with disabilities.
She said she is not the woman in the footage.
The clip is concocted and only menat to soil her reputation and taint her image, Gedi said.
This was her first trip to her home county since the video went viral last month.
The MP was on official duty to Djibouti when the tape surfaced.
She said it was hard dealing with it but she would not be cowed and distracted from delivering her campaign promises.
''This is just a hurdle and we will overcome,'' she told a crowd at Soko Mjinga in Wajir town.
The legislator said the footage was sponsored by her rivals and the public should not buy the demeaning strategies employed by her political enemies.
"I thank the people of Wajir for standing with me when a few individuals who wanted to kill my political ambitions created a fake video,'' she said.
"Only God knows the truth."
She said her troubles started the moment she won the Woman Representative seat and fell out with the Wajir county government leaders.
Gedi said the falling out was caused by her condemnation of corruption in the county.
"This war started a long time ago when I started exposing the rot in the county,'' the lawmaker added.
The clip was released on December 19 and was trending for several days.
A video editor from Tuko News was arrested for allegedly creating and leaking the video.
Douglas Baya was reported to have allegedly received Sh2 million to cretae the video.
He appeared before Kiambu Senior Resident Magistrate Brian Khaemba but did not take a plea.
The case will be heard on January 14.