Wajir governor object cross examination at Supreme Court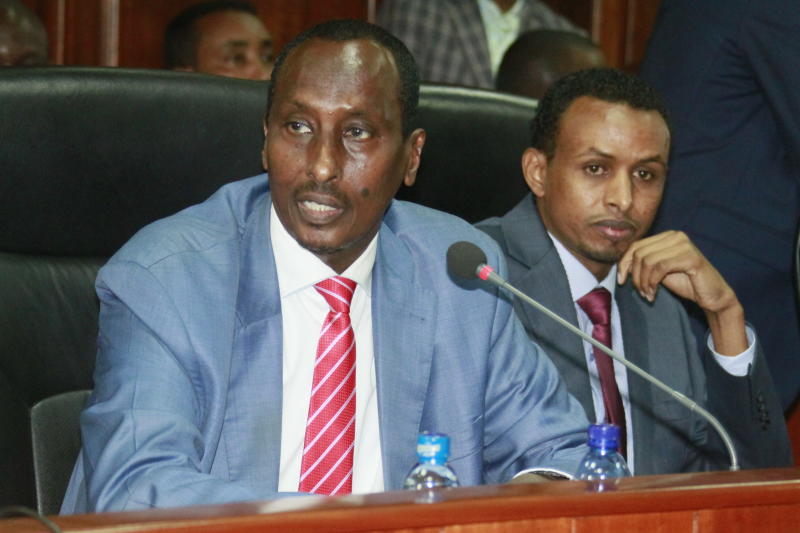 Wajir Governor Abdi Mohamud will not take to the stand to defend his degree certificate, one of the nine grounds the High Court cited in nullifying his election.
His lawyer Tom Macharia on Monday said Mr Mohamud would provide additional evidence through affidavits only. Mohamud had earlier pleaded with Supreme Court judges to allow him to adduce additional evidence, arguing he was not given a fair hearing at the trial court.
On September 28, the Supreme Court allowed parties in the case to introduce additional evidence. Mohamud is battling to have his election as Wajir governor upheld.
The High Court nullified Mohamud's election after it was challenged by former Governor Abdullahi Mohamed. The nullification was upheld by the Court of Appeal in Nairobi.
In the new affidavits, the Wajir Governor has presented a ninth graduation dean's list for the academic year 2012 from Kampala University. He seeks to use the list to convince the court that he was a student at the institution.
On the other hand, Abdullahi has also presented a letter from Kampala University's Assistant Academic registrar Timothy Sato, which states that Mohamud's name did not feature in the admission records of 2009-2012 as an in-service student "and therefore was not a bonafide student".
"No records with the accounts office indicate that he ever paid any amount of university fee. From class attendance records of the years 2009 – 2012, his name does not appear anywhere in the sheets showing he ever attended," said the letter.
Lawyer Tom Macharia, acting for Mohamud, told the court they were not keen on cross-examination.
The application for cross-examination was filed by lawyer Omwanza Ombati for Abdullahi. He had argued that Mohamud failed to clear issues regarding his Bachelors degree certificate at the trial court.
Lawyer Ahmednasir Abdullahi, also for the former Wajir Governor, told Supreme Court registrar Ole Keiwo the need to argue the cross-examination application as he believed some parties that swore affidavits were involved in perjury. The court is expected to give a direction on the matter.
Abdullahi's lawyers have also filed parliamentary handsard records and declarations to the Ethics and Anti-Corruption Commission where Mohamud had indicated that he was yet to graduate in 2014 when he was vetted as a nominee for Saudi Arabia ambassador.
Supreme Court has until November 30 to give a ruling on the matter.