Seven people killed, nine injured in fresh Isiolo clashes
NORTH EASTERN
By Ali Abdi | March 10th 2017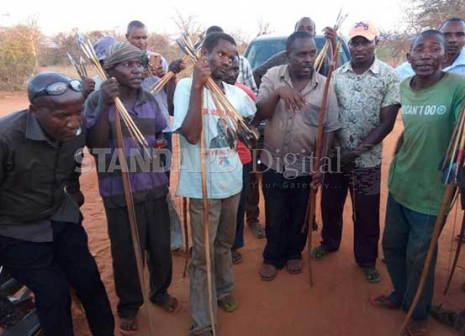 Seven people died as clashes between warring communities in Garba-Tula township, Isiolo County raged yesterday. Nine people were also injured.
Local Borana and migrant Somali herders from Lagdera, in Garissa County invaded Duse in Garba-Tula, Isiolo County sparking a fierce gun battle. It is said the herders were fighting over pastures for their livestock.
Authorities said armed men attacked Duse, a flourishing gemstone mining centre before dawn killing seven people. The injured include three school children and two women who were escorting them to a local school in the morning. Four Kenya Police Reservists (KPR) also sustained gunshot wounds.
Locals said the attackers, suspected to be from Banane, Lagdera Constituency in Garissa attacked the centre at around 3am but were overwhelmed by KPR officers deployed by the county government from its game parks in Isiolo town.
The county security committee dispatched more police officers and an armoured car from Isiolo town, a distance of about 150km to the crisis centre yesterday morning.
"We have 11 KPR and the raiders were more than 30 but we managed to repulse them,'' said a KPR officer among those injured.
During the attack, the raiders regrouped and attacked the village at around 6am and shot dead a woman.
Garba-Tula Deputy County Commissioner Kipchumba Rutto yesterday said four bodies had been recovered — that of a woman and three attackers.
"The security personnel are combing through the area in search of more bodies. But we have so far recovered four corpses,'' said Rutto.
The injured were taken to Maua Mission Hospital in Meru County. The migrants had differed with locals last September following the killing of four people at Gafarsa.
Isiolo County Speaker Mohammed Tubi and Garba-Tula Member of County Assembly Abdi Sora called on the authorities to evict all migrant herders from North Eastern to end the conflict.
Tubi criticised the State saying they had failed to recruit home guards which compelled the County administration to send its own rangers to protect locals.
KPL kick-off postponed
The High court has stopped the Kenyan Premier League from kicking off tomorrow (Saturday March 11) until Sofapaka's case is heard and determined.