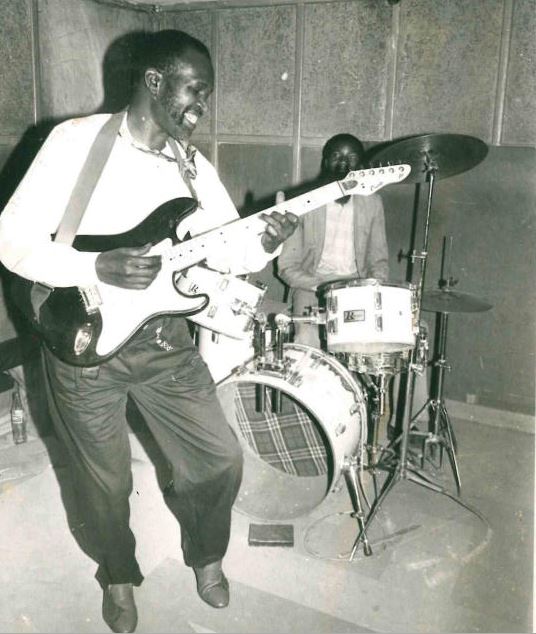 Greetings from this side of the earth. I hope you have safely transitioned to the world of our ancestors and are enjoying spending time with the great men of yore - please say a special hallo to Queen Jane (she was quite the diva) and John Ndichu. I am writing this letter now because I somehow did not find space amid all the notable eulogies and tributes written upon your demise.
Firstly, I want to thank you for injecting some flavour into the world of Kikuyu fashion. The men in my family informed me that you were the main reason Kikuyu men so happily adopted the cowboy hat - which they like to call the god papa or ngai fafa hat.
As many Kenyans can confirm the staples of Kikuyu male fashion are the ngai fafa hat and the Jomo leather jacket.
They will also tell you that the fashion that happens in between is often disaster because somehow your brothers have become notorious for breaking cardinal fashion rules. You must have seen how they like to wear slim fit shirts that only highlight their expansive girths.
Kamaru, I am sure even in heaven you are still marveling at how your brothers have sort of let themselves go thanks to their weekend mbuzi pilgrimages.
Read More
So, I pray that while in heaven you will pray for them to see the light so that they start taking care of their bodies and start dressing better - just like you did. But thanks for the ngai fafa hat.
Kamaru let me just say you had a great voice. I am not too sure if it was a Tenor or a Baritone but I so like how it poured itself on your lyrics and instrumentation. I also loved how you used your voice to tell your stories - stories about love; stories about the country; stories about life.
Yet Kamaru I must say your love stories were a bit strange for it seems your love interests did not treat you kindly. For instance, that song you wrote about the girl who told you she was going to visit her folks for Christmas only to disappear with another man and head off to the Coast. While I do not want to cast aspersions on the quality of your love skills, why is it you had not offered to take her to Mombasa?
You see most Kikuyu girls are not really crazy about going home for Christmas. Most of them know going home means spending long hours slaving over the three-stone stove and damaging their expensive manicures and weaves. Had I met you earlier Kamaru, I would have requested you to write another song about how men need to take their women to fun places over the holidays. I dare even not ask about that song about that guy who came knocking on your girlfriend's door late in the night while you were there. I always wondered why that song did not end with a few gunshots and loss of life. Anyway thank you for the stories - we will enjoy them for a long time to come.
Kamaru, thanks for inspiring many musicians from your hood to take up music - you are really the main reason why Murang'a has been labelled Mo-Town. I however wish you had also taught our musicians how to record their music videos. I know most of your relatives like to do things on the cheap - but most of their videos are laughable.
For some reason the casting is usually terrible so that most of the dancers are anatomically challenged so that all we see is their potbellies and limited hips attempting to dance erotically - I tell you it is not a pretty sight.
I hope while in heaven you will pray for some sort of divine inspiration so that we get some better musical videos. I also need to say I am a bit disappointed that none of your children has taken up your craft - but perhaps your grandchildren will redeem your legacy - anyway thanks for your mentoring.
Finally Kamaru, please send down some divine intervention so that your Mo-town people arrange some mega party so that we can sing all the songs and truly send you off into the prime estate of heaven. You see the Presidential funeral was well-intentioned but we did not get a chance to give our now widely accepted vulgar twists to some of your famous songs like Ndari ya Mwarimu or Wendo wa Cebecebe.
Please ask the Almighty to touch the hearts of some of Muranga's favourite sons and daughters like those who own mega media houses and banks or those who even claim to own the water that the city drinks. As you know the folks from Kabete (like myself) are not as musically gifted so in this instance we have to hope and pray that Murang'a delivers hopefully by December. I cannot say thank you enough for the music that straddled ridges, generations and tribe.