CS Munya fined Sh100,000 for disobeying court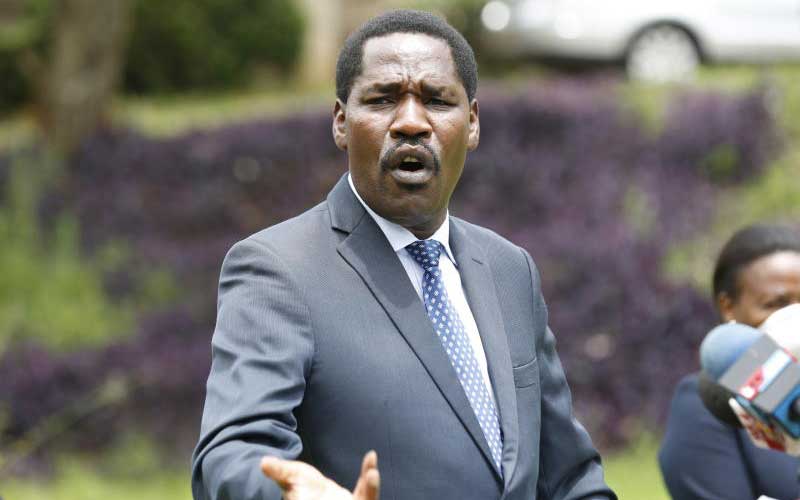 The High Court in Kapenguria has fined Agriculture Cabinet Secretary Peter Munya (pictured) and Commissioner of Cooperative Development Geoffrey Njang'ombe Sh100,000 each for defying court orders after they disbanded the Kenya Farmers Association (KFA) board last year.
Justice Ruth Sitati on October 17 last year issued orders stopping Mr Munya, who was then Trade and Industrialisation CS, from interfering with the KFA board.
Munya, through gazette notice 10384, had disbanded the board of directors and appointed a caretaker one to run the affairs of the moribund KFA.
Mr Tom Wanambisi moved to the court to challenge the decision by the CS.
The court on November 14 last year found that the CS and Commissioner of Cooperatives had failed to comply with orders that quashed the gazette notice 10384.
In her ruling, Justice Sitati said Munya and Njang'ombe disobeyed orders issued on October 17, 2019 and November 14, 2019 and therefore they were in contempt of court.
"The fact that the respondents are public and State officers means they must have a higher sense of duty in ensuring compliance with court orders than ordinary citizens of this country and they should be at the fore front in respecting the rule of law and the Constitution as a whole," she said.
Justice Sitati ordered Munya and Njang'ombe to pay the Sh100,000 fine each within seven days after the ruling failure to which they would be arrested and jailed for five days.
"I order the respondents to revoke the gazette number 10384 by the 2nd respondent dated October 24, 2019 and published on November 1, 2019 failure to which they shall pay a further fine of Sh100,000 and in default be imprisoned for five days," she added.
Another case was filed before the High Court in Nakuru by two activists - George Narok and Paul Maina - challenging the decision by Munya and Commissioner of Cooperatives to appoint the caretaker board.
Narok and Maina argued that KFA is a private entity and the government had no mandate in its operation and thus the decision to remove the board of directors and appoint a caretaker one was unlawful.
In 2018, High Court judge George Odunga ordered the State to deduct Sh200,000 from Interior Cabinet Secretary Fred Matiang'i, former Inspector General of Police Joseph Boinnet, and former Director of Immigration Gordon Kihalangwa's pay as fine for detaining lawyer Miguna Miguna in defiance of court orders.
"There is no immunity for impunity; a time has come when the courts must lift the veil against those who act with impunity in disobeying it," said Justice Odunga.