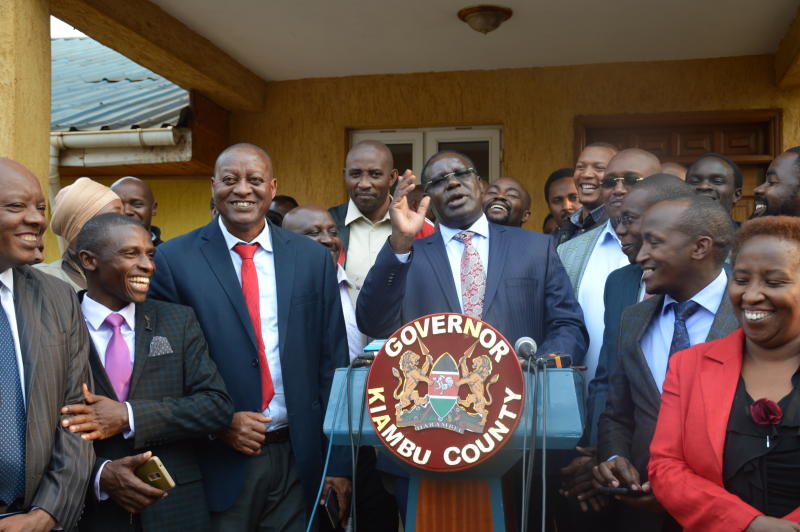 Deputy Governor James Nyoro has alleged massive embezzlement of funds in the county's various departments.
Mr Nyoro, who is the acting governor after Ferdinand Waititu was barred from office, yesterday said millions of shillings could not be accounted for.
Nyoro said of Sh538 million allocated to Kiambu, Thika and Gatundu Level Five hospitals by the national government in the 2018/2019 financial year, Sh433 million could not be accounted for.
He said only Sh105 million was received by Kiambu and Thika hospitals. Gatundu hospital received nothing.
The money was to be channeled to the hospitals through the county government.
Nyoro further alleged that of the Sh940 million that was annually collected from all county hospitals, through the Facility Improvement Fund, only Sh450 million was ploughed back to the hospitals.
World Bank grant
He explained that the money was collected and then returned to the same hospitals to improve facilities.
The acting governor also said the World Bank granted the county Sh340 million through the Kenya Development Support Programme (KDSP).
Of this amount, he said Sh150 million was missing. He noted that some other money given by the World Bank, through the Urban Support Programme, had been diverted, but returned after concerns were raised.
"The county could be blacklisted by the World Bank over the missing funds," said Nyoro. He pointed out that early this year, the county had awarded 11 roads contracts that had not been budgeted for.
"This came as a shock. The tenders were awarded but no money was set aside for the projects," said Nyoro.
Roads County Executive Juliet Kimemia confirmed that the tenders were awarded. Ms Kimemia said the tenders were awarded without her knowledge by senior officials she declined to name.
A senior official in the Department of Finance, who sought anonymity, dismissed Nyoro's claims that money from the World Bank had been misused.
Received Sh1.8b
He told The Standard that under the Urban Support Programme, the county received Sh1.8 billion from the World Bank, which went to the County Revenue Fund (CRF).
He said from there, the money was sent to the Special Purpose Account (SPA) from where it was disbursed to Thika, Kikuyu, Ruiru, Juja, Kiambu, Limuru and Karuri municipalities to fund various projects.
"The projects that you are seeing being undertaken like roads, beautification of towns and construction of drainage systems are being funded by that money," the official said.
He further said the World Bank advanced another Sh238 million through KDSP, which underwent a cabinet approval.
Kemsa debt
After that, Sh60 million was in July used to clear part of a Sh94 million debt owed to the Kenya Medical Supplies (Kemsa).
The official explained that Kemsa had refused to supply Kiambu with medicine because of the debt. "There is no way we could have allowed patients to die because of lack of medicine. The money was used with cabinet approval," he said.
Another Sh20 million, he said, was used to fuel ambulances, garbage collection trucks and county vehicles.
Still another Sh45 million, he said, was being used for the improvement of Kikuyu market.
"The balance was used to pay electricity and water for offices and hospitals, as well as salaries," the official said, adding: "Nyoro is playing politics. There is no money that has been lost."
Efforts to reach officials in the Health Department, whose docket was adversely mentioned by Nyoro, were futile. Health Executive Mary Kamau did not pick calls, nor did she respond to text messages.
Waititu has been out of office since July when he was charged with fraud amounting to Sh588 million.
He was charged alongside his wife Susan Wangari Ndung'u, six Kiambu County officials and a businessman.
Waititu was released on Sh15 million bond.