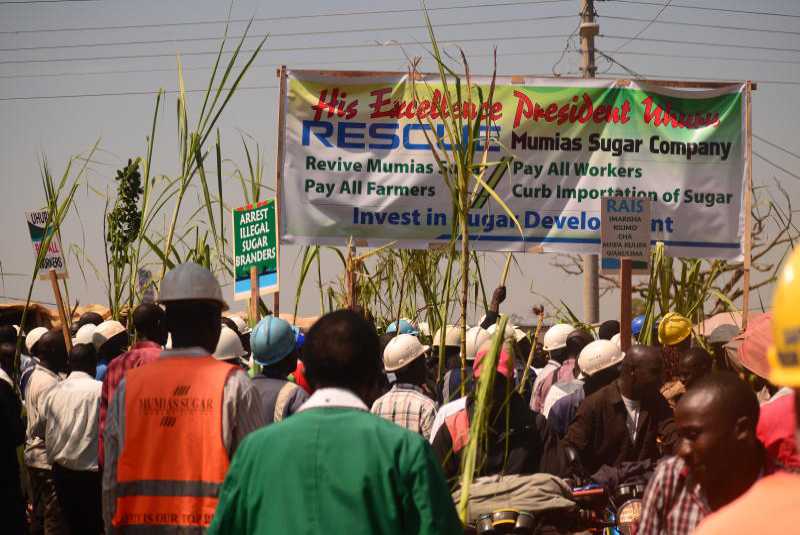 Operations at Mumias Sugar Company were halted for the better part of yesterday after employees downed their tools and shut down the firm's ethanol plant.
The more than 1,000 workers were demanding over Sh700 million in salary arrears.
They barricaded roads around the factory as they marched to Mumias town to seek an audience with Deputy County Commissioner Philip Soy.
Led by the Kenya Union of Sugar Plantation and Allied Workers Mumias branch secretary, Boniface Mulomi, the workers presented a memorandum of their grievances to Mr Soy and asked him to deliver it to President Uhuru Kenyatta.
They claimed they had gone without pay for 17 months and could no longer fend for their families.
Big Four agenda
Mr Mulomi said the Government should give the ailing sugar miller an urgent bailout to help it out of its current financial mess.
"We know the Government is committed to helping our company, but it is taking long and both the workers and the farmers are in a tight spot," he said as he addressed the striking workers.
"We expect the President to do more to ensure that the industry is up and running since factories fall under manufacturing, one of the pillars of the Big Four agenda."
Mumias Sugar owes creditors, workers and farmers over Sh20 billion, according to the management.
The company owes Kenya Power alone Sh2 billion while another Sh1 billion is owed to the Kenya Revenue Authority in unpaid taxes.
The workers also demanded that Kenya Power restore electricity that was disconnected last week.
"We are entitled to a bailout because before we started going under, we used to pay over Sh800 million to KRA yearly and since inception, we have paid over Sh100 billion to the Government," said Mulomi
The company has been under pressure lately to pay up, with creditors looking to auction the company's property to recover their money.
Scathing attack
The workers, however, vowed to thwart any attempts to auction the miller's property.
"If they come, we will be the first people to throw them out as employees," shouted one protester.
The chairman of the board of management, Kennedy Ngumbau, came under scathing attack by the workers, who accused him of abdicating his duties.
The employees demanded the restructuring of the entire board, citing incompetence and insensitivity to their plight and that of farmers.
They also wanted the current board and the previous management investigated over how they spent a Sh3.6 billion Government bailout.