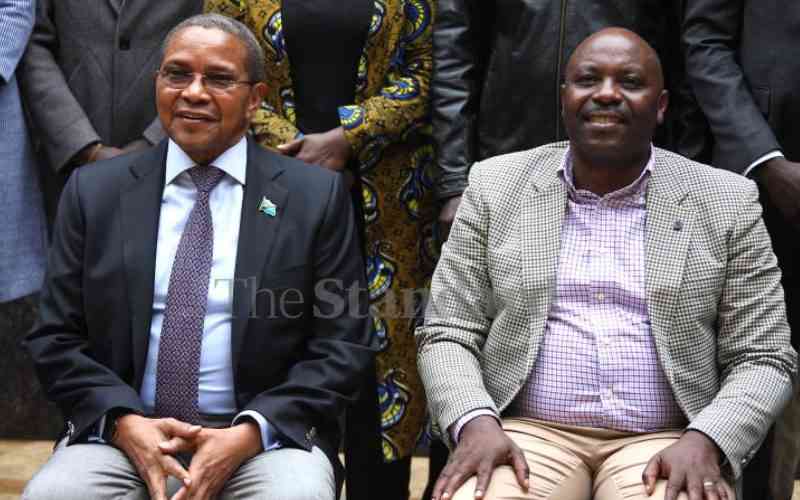 An elections observer group has raised concerns over vote-buying allegations that are making rounds on social media.
Ann Ireri, the chair of Elections Observation Group (ELOG) said they are currently looking into the allegations in some counties.
"What has come out is that IDs are being purchased in certain areas of the country,'' she said.
United Democratic Alliance (UDA) Nairobi governor candidate Johnson Sakaja on Sunday claimed government officials were using chiefs to advance political interests ahead of next week's election.
But Ireri said they are working closely with their observers to look into the matter and will release a comprehensive report.
"We will have a conclusive report this weekend so that we can establish the counties involved," she said.
Ireri defended their decision that Independent Electoral and Boundaries Commission (IEBC) conducted a free and fair election in 2017 despite poll being nullified by the Supreme Court.
She said the court ruled that the problem was results management and not how IEBC conducted the election.
She said ELOG is working with IEBC to ensure the 2017 blunder does not recur, and had deployed over 5,000 observers in wards across the country. In 2017, they had 1,700 observers.
"We are helping the commission tick the checklist from the 2017 ruling and we are working with them to ensure the result management is clear," she said.
"We are glad with how the commission has been conducting themselves. We have faith in them."
She however said IEBC had not done well in voter education compared to 2017.
Ireri also said FIDA-Kenya will also be on the ground to oversee instances of gender violence and sexual harassment not only of voters but female candidates too.
Besides Elog, other stakeholders are National Cohesion and Integration Commission (NCIC) that is active in peace campaigns and monitors hate speech.
The Kenya National Commission on Human Rights (KNCHR) monitors elections and issues reports of incidences from the public through text messages, emails and online messages.
Regional observers include the East African Community (EAC), Intergovernmental Authority for Development (IGAD), the Common Market for Eastern and Southern Africa (COMESA) and the African Union.
Head of IGAD Election Observation Mission Dr Mulatu Teshome arrived in the country yesterday and is expected to hold meetings with stakeholders to brief them on the mission's mandate. The team has seven core staff and 24 short term observers.
COMESA deployed a high-level pre-election assessment mission in May 2022.
On Monday, former Tanzanian president, Dr Jakaya Kikwete was unveiled as leader of a Group of Eminent Persons from the EAC to observe next Tuesday's elections.
He said the commission comprises about 50 observers from the EAC partner states.
He said they would assess the level of preparedness, compliance with the electoral law and compliance to democracy.