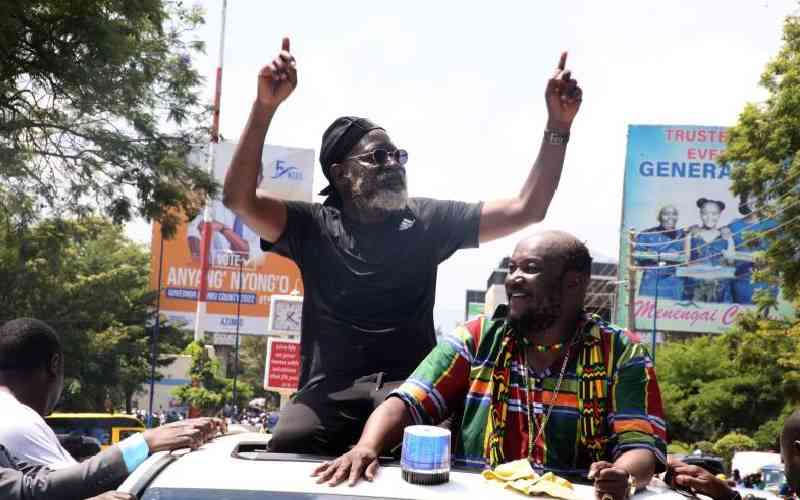 Despite Wajackoyah's 'wild' views, Roots Party wave is a wakeup call
Kenya has made Wajackoyah necessary. To dismiss Wajackoyahism without a sincere analysis of its perspectives – as extreme as they are – is to miss out on a critical opportunity to critique ourselves.
One may read Wajackoyah as an abstract thinker detached from Kenya's reality. Another may read him as a liberal who has little care for morals. Still, another may read him as a severe capitalist. We will read him here as a voice that jolts our minds to newer and higher levels of thought and reflection.
Being a learned elder and well versed with the Kenyan condition, Wajackoyah's views cannot be bypassed as randomly wild. His views appear unbelievable but that he has a following way larger than projected is more unbelievable!
The young followers of Wajackoyahism seem to have just caught it and did not need to be taught.
While other presidential candidates take a predictable narrative, Wajackoyah is clearing bushes and beating his own path. His public rallies may not draw large crowds as those of older parties but he is definitely the most talked about and his media interviews are widely viewed. He can no longer be ignored.
Analysis indicates that many supporting Wajackoyahism are in the bracket of those youth who did not register as voters. Disconnection between their ambitions and government systems returns a low view on elections and see existing systems as subtracting from their life equations.
These young people hear politicians speaking a dead language. They have observed their parents and their seniors invest hopes in elections only for their lives to remain unchanged, and sometimes change for the worse. These young people are a generation within but without and live in web-based para-systems. But the emergence of Wajackoyah has excited a subset of them who seem to say "if only we knew of this candidate!"
It is often said that Kenya has what it takes to revive but lacks the political will. As long as there is a problem that prevents solutions from seeing the light of day, there is a big problem!
Solutions are not yet solutions until they unblock their own path to life. Wajackoyah enters the scene through this idea deficit door.
He tables radical and seemingly ridiculous unconventional solutions some of which necessitate liberal adjustments in law. He backs up his cannabis-canines–snakes-noose formula with workable math, traceable markets and makeable timelines. He leaves the masses to struggle with the morality of his proposition.
Wajackoyahism prioritises outcome over process. Actions are guided by the intended end. The what leads the how. Biblical Modercai in his strategy for Esther to be queen told her "Do not reveal your [Jewish] identity."
For Wajackoyah, if herding dogs for export to dog-eating people for the dignity of Kenyans to be restored, then so be it!
Culture must bend until the critical end is achieved. A snake may represent darkness in one culture but in another it is food. Because we already patronise snake parks, it should not be hard to imagine snake farms. When evaluating the intensity of an end, sheer ambition is different from raw survival.
A top athlete who takes banned substances to maintain a winning streak is not the same as a woman contemplating exchanging her body for food to feed her emaciated children.
David, the man after God's heart, had his value system take a nosedive at the altar of lust. Peter, the rock, had his quicksand moment and betrayed his master rather than go down with him. The father of faith, Abraham, suspended truthfulness for survival even when the price was his wife.
It makes good preaching to say that not even the threat of death should sway convictions. But it is easier said than done. Most people are fearful. Martyr courage is not a mass status. Martyrs die and leave the fearful alive.
Wajackoyah evokes some questions: What if the way to right Kenya's wrongs necessitates a suspension of existing moral codes? Is morality such an ultimate trophy that it cannot be given up? What is the quality of our morality if it existed? Can we trust a weak moral system to get us out? Why defend moral codes that cannot deter demons devouring us?
There is ground to argue that Kenya's morality levels have dropped to an all-time low and we are in state of moral insolvency. In such a desperate state, Wajackoyah's perspectives should not be dismissed on face value.
The only way to dismiss him is by presenting superior ideas which, going by the content of the much hyped manifestos, are yet to appear.
What are Kenya's problems? They are the ugly pus of debt, high unemployment, punishing cost of living and galloping corruption. All these harmonise into a dirge of undignified living.
Kenya's sin condition is so advanced that we steal even the money borrowed to make up for what we have stolen! Do not look for demons with tails and spikes. Demons dress in imported suits, live in leafy suburbs, walk in designer shoes and drive around in sleek customised guzzlers.
Corruption has defeated all regimes in the past. Gas and guts run out quickly to the delight of the corrupt tribe. The corrupt progress immovably and tattoo their schemes as indestructible.
Cartels watch the campaign trail with a mocking smile because the self-proclaimed corruption stoppers are themselves gold status shoppers at the Korupt supermarket. They are too fat to pass through the current size of jail doors – for that they remain free.
But hearing a potential president proclaim that corruption will be punishable by death has causted a stir. The guilty are surely afraid of Wajackoyahism. The corrupt do not want to die. They kill to live! They do not want to leave their lavish living. The hangman is not a scarecrow. Wajackoyah implies that corruption needs to be moved up to the cluster of the highest crimes.
Unlike the Ten Commandments, literally cast in stone, man-made laws are dynamic. What if the law legalised what according to some should remain criminalised?
Wajackoyah extends our imagination to a world where marijuana laws would be reformed. Those who do not smoke it because it is illegal would have their position tested, some immersing themselves in a cannabis experience to inform their decision. Others would sustain their choice out of their pre-existing sobriety principles.
A choice made in freedom has a higher reading on the scale of authenticity.
Wajackoyahism enlarges freedoms and delegates a greater role to choice. Institutions that shape the terrain of right and wrong– such as the church–would have to think and work harder to sustain their resolve and be more thorough to successfully propagate their positions.
God sent His people to a most ungodly country to reinstall their godliness. What in Babylon would point the people back to God? It was importantly a thrust into the furnace of choice. There were faith fatalities for sure.
Not all Israelites were sad about going to Babylon. Some were happy with a life free from the Mosaic restrictions and embraced the Babylonian life especially its liberal licenses to an array of carnal pleasures. But some, after experiencing a dance with the idols turned more firmly towards Yahweh. These longed to go back home not just to their towns, but home to worship.
Convictions were purified and intensified. Exposure to what you do not stand for intensifies what you stand for. In an increasingly secularising space, Wajackoyahism serves as a wakeup call and litmus test for the authenticity and sincerity of the church's vision for the community.