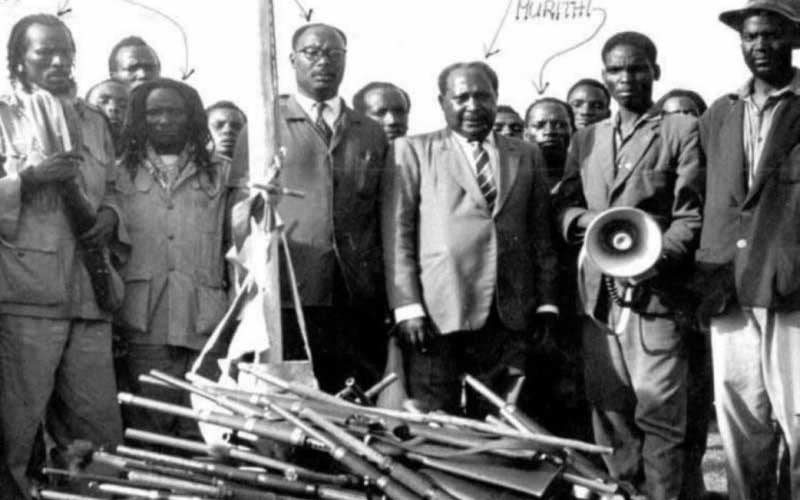 When the foundations of this country were being laid, the rulers, then just like now, believed in the might of the sword and the gun. That is why they insisted on having the final word on who would be allowed to own guns or not.
At a time when most Kenyans were still relying on clubs, swords, spears, bows and arrows for defence very few people were familiar with a gun. Its ear-shattering blast would have mistaken been for a thunderclap, or a sign from the heavens that the gods were not happy.
But one of colonial chief, Wambugu wa Mathangani had intimate knowledge of guns. In fact, he was legally permitted to own one.
Mathangani who lorded it over mortals in Nyeri and another colonial chief, Kibarara wa Gacheru who was discharging similar administrative duties duties in Murang'a were the only Africans allowed to own guns 117 years ago.
According to the government returns of 1905, Mathangani had been issued a license to own a six-chambered .450mm revolver which had been transferred from Kichen Chad.
The only other African featuring in the list of the native gun owners is a Mombasa based trader, Seyd Bin Mbaraka who the government had licensed to carry a 12 bore shot gun, previously owned by S M Decosta.
The more than century-old government records published in1906 indicate that one American millionaire, William Northrup McMillan who loved hunting had a total of 70 rifles and pistols registered in his name.
The fun-loving McMillan had migrated to Kenya in 1904 and convinced the colonial administration to license his arsenal in Mombasa.
When he finally settled in Kenya, he established his own empire headquartered at Donyo Sambuk, and was instrumental in bringing former US President Theodore Roosevelt for a hunting safari in 1910.
Since those early days, gun licensing has always been used as a tool to control who can unleash legitimate violence.
This is why when the colonial government captured Dedan Kimathi who had been waging war against security forces from Aberdare Forest, it used the gun ownership law to nail him. The administration finally convicted him of being in possession of an illegal firearm and hanged him on February 18, 1957.
Long after Kenya got her independence, the Firearms Act stipulates that it is a crime for a person to be in possession of a prohibited. The penalty for this crime is prison sentence of seven years to a maximum of 15 years.