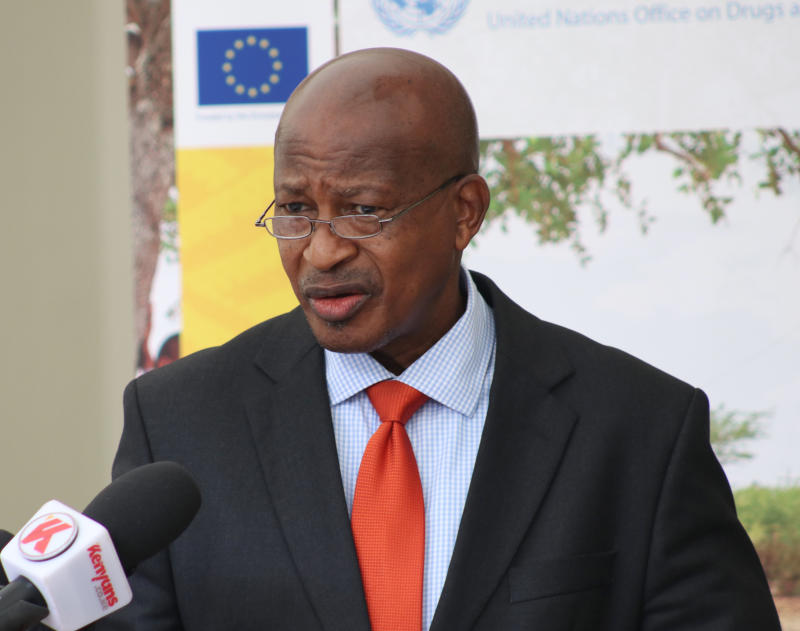 The Attorney General has accused the elections body of bungling the capping of campaign financing.
Mr Kihara Kariuki was arguing in a case filed by Katiba Institute and Africa Center for Open Governance where the complainants are seeking the reinstatement of regulations rejected by Parliament that would limit the amount of money candidates can spend on campaigns ahead of the General Election. Mr Kihara (pictured) said the Elections Campaign Financing Regulations, 2020, are unconstitutional and were submitted to Parliament late.
According to him, the Election Campaign Finance Act, 2013, required the Independent Electoral and Boundaries Commission (IEBC) to gazette the regulations to govern this year's campaigns by August 8 last year. The Attorney General said the IEBC waited until August 5 before submitting the draft rules. "Evidently it was impossible for the regulations to undergo the full process of consideration and approval by the National Assembly within three days so as to meet the statutory timeline."
Mr Kihara (pictured) claimed the elections body also failed to conduct a public participation exercise before it submitted the regulations.
"The resolution by the National Assembly rejecting the publication of the Draft Election Campaign Financing Regulations, 2020, was therefore valid and ought not be quashed," he said.
The Attorney General said that in the absence of election campaign financing regulations, there would be no legal basis for the IEBC to limit campaign spending.
"We therefore pray that this honourable court finds that the Election Campaign Financing Regulations, 2020, failed the requirements of the Statutory Instruments Act, 2013, and affirms that the decisions by the National Assembly were made in order," he said.
The IEBC reversed campaign-financing rules after the National Assembly annulled the draft Campaign Financing Regulations, 2020, as well as contributions and spending limits for political parties and candidates. The lawmakers were opposed to regulations requiring them to open bank accounts to funnel campaign cash, as well as a requirement that any excess money be surrendered to the National Treasury or donated to charities after the elections.