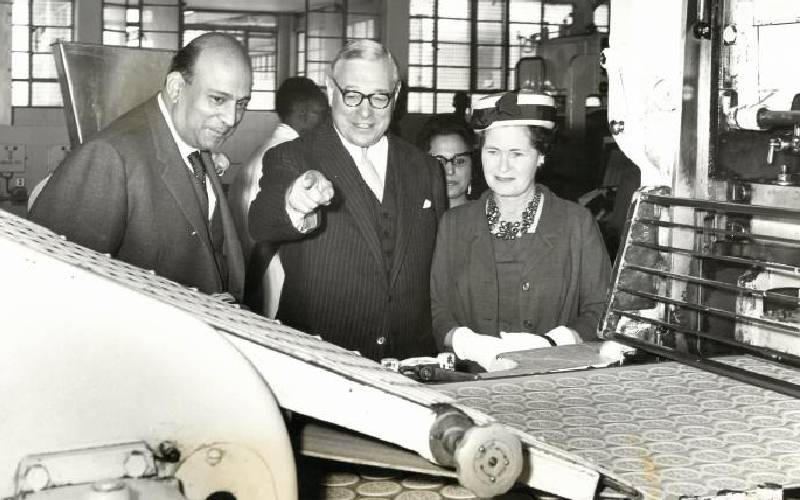 Weetabix is a popular cereal on breakfast tables, especially among the middle class and wealthy.
Originally produced in the United Kingdom in the form of palm-sized biscuits, the cereal that now comes in many different shapes, flavours and shapes became popular in Kenya in 1974 when the UK's Weetabix Limited set a subsidiary in Industrial Area.
But the idea was conceived in June 1970 when Ambreena, the first granddaughter of Mr Madatally Manji was born. The late Madatally was an entrepreneur and founder of House of Manji, famed for biscuits and cookies.
One day when Mr Madatally visited his son Mr Salim and Ms Navida, the daughter in-law, he found the couple in a jovial mood over their newborn baby. There was little disappointment in the house over Farley's baby feeding rusks bought from England full of weevils.
"I discussed the matter of the baby food with Salim and told him we could manufacture a product similar to Farley's rusks," says Mr Madatally in his book Memoirs of a Biscuit Baron.
Mr Salim took the matter seriously, and within a few weeks, he assembled chemicals, vitamins and raw materials for baby feeding rusks. The next task was identifying a reputable international brand.
They approached the world-renowned baby food manufacturer, Cow & Gate Company of the UK. After meetings with representatives of the company, a deal was struck. The Manjis would market their new product under the brand name Cow & Gate.
Mr Salim concluded it was possible to manufacture breakfast cereal under the license of a major multinational manufacturer. Mr Salim settled on Weetabix Limited of England.
In early 1974, when William George, the chairman of Weetabix Limited toured Kenya, Mr Madatally met him at a party. During their conversation, he invited Mr George to his factory in Industrial Area, but it was impossible due to a tight itinerary.
When Mr Madatally travelled to the UK, Mr George invited him to a business luncheon where he broached the idea of breakfast cereals. Another meeting would later follow and Mr Madatally was told to raise 500,000 sterling pounds for new machinery.
Vice President Daniel Moi on May 11, 1974, launched the subsidiary in a ceremony at the Kenyatta International Conference Centre. Although Weetabix was already a well-known product on the local market with a countrywide distribution network, House of Manji was now producing it locally.