Essays offer youth chance to be heard above din of political noise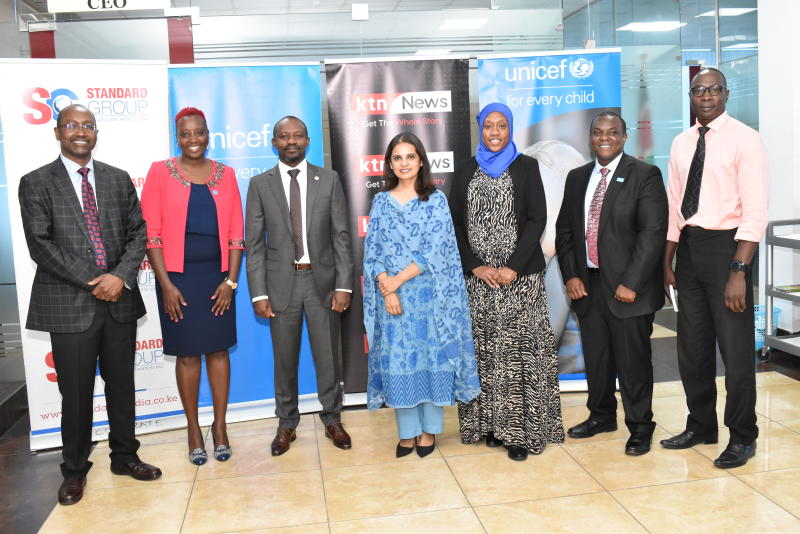 The Standard Group and the United Nations Children's Fund (UNICEF) has launched an election advocacy campaign targeting school-going children and the youth.
Through #FacetheChildren essay and video competition, the two organisations hope that Kenyans aged between 10-24 - making half the population of the country- will raise issues critical to them in the run up to the August 9 elections. The winners of the essay competition will take part in a debate with candidates in the upcoming election.
The competition is part of a partnership between the media house and Unicef. Standard Group CEO Orlando Lyomu and UNICEF-Kenya Representative Maniza Zaman launched the campaign at the Standard Group offices on Mombasa Road yesterday.
The Standard Group will offer its platforms to amplify and advance Unicef's key role of advocating for the welfare and rights of children.
"The decisions that are made by adults directly affect children, even though they don't vote... the Standard Group is giving them a platform to air their views and so policy makers can know what really matters to them," said Mr Lyomu.
The entrants have a variety of issues to chose from including quality education and health, ending violence against children, sanitation, children protection against harmful cultural practices and climate change.
"We are inviting young persons to write and talk about what they would like the next government to do for them," said Ms Zaman. Adding that investing in children is critical for peace. She said she hoped through the initiative and others, Kenyan children "can grow in a violent-free environment."
The competition has two sets; one targeting children aged between 10 and 16, and another targeting those aged between 17 and 24. Entries should be submitted by April 19. The winners will be chosen by a panel of judges drawn from the Standard Group and UNICEF. The essays will include 1,000-word articles and a 3-minute video.
Standard Group's Editor-in-Chief Ochieng Rapuro said the best essay writers, could be trained and absorbed by the Standard Group in the future.
"We have run campaigns before, and we gave people a platform to grow. So, yes, we may also absorb anyone who might demonstrate exemplary skills," said Mr Rapuro.
The winning essay will be featured on all major Standard Group platforms, including Generation Next Magazine, Kiboko Club and Standard Digital.
The articles will also be published on the official Unicef websites.
Winners will receive branded Unicef T-shirts, a gift from Standard Group and a certificate of participation.?
Also at the function, was Standard Group's Head of Corporate Affairs Charles Kimathi, Corporate Affairs Manager Khadija Mohammed, Partnerships and Special Projects Editor Andrew Kipkemboi.
Others present were Dan Oloo and Joy Wanja Muraya from UNICEF Kenya.