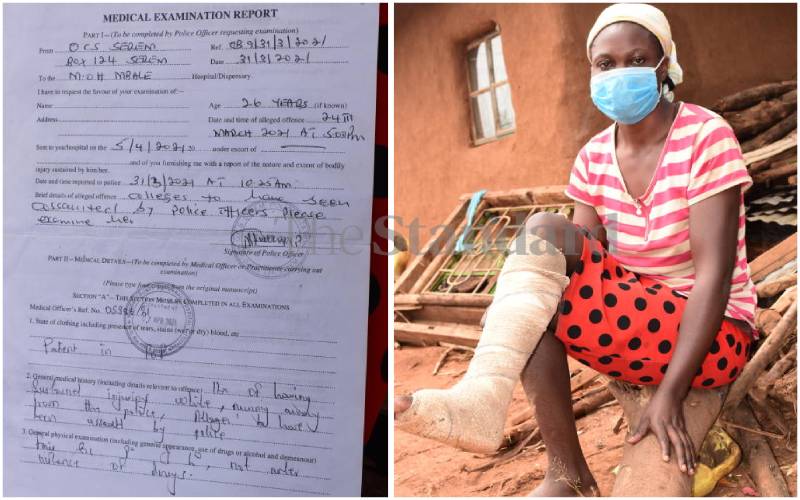 A day after the government lifted Covid-19 containment measures, Shillah Imali is in pain at Busingo village, Kakamega County.
Imali is seeking justice and pointing an accusing finger at Serem Police Post officers for breaking her leg during the enforcement of Covid-19 restrictions on March 24, 2021.
The 27-year-old claims she was accosted and assaulted by eight police officers from the station for not wearing a mask.
"They chased me into my house. When I surrendered, one jumped on my leg. It really hurt and I became immobile," narrated Imali. "He left me with a permanent injury and it hurts more that the officer responsible is free."
Imali says she has spent over Sh150,000 on treatment and doesn't want a refund but is seeking to have the officer culpable brought to book.
"Until the officers who assaulted me are brought to book, it will be hard to find closure," she said.
Speaking to The Standard, Imali's sister Purity Khalambukha, lamented that the officers took advantage of coronavirus protocols to 'torture defenceless Kenyans who they are mandated to protect'.
"The incident left me jobless. I am the last born and had to quit my job, and relocate from Nairobi to take care of her [Imali ] since my mother is old and incapable," said Khalambukha.
Khalambukha disclosed that she has exhausted all her savings to pay for the medical expenses of her sister and follow up on the matter.
"Even if the government has lifted the wearing of face masks it should know some suffered irreparably in the hands of rogue police officers," she added. "IPOA is the only hope but it is taking too long to finalise the investigation."
Independent Police Oversight Authority (IPOA) officers visited her home and took a statement after The Standard highlighted her plight in July 2021, promising to update her on the progress of the case.
She has never received feedback.