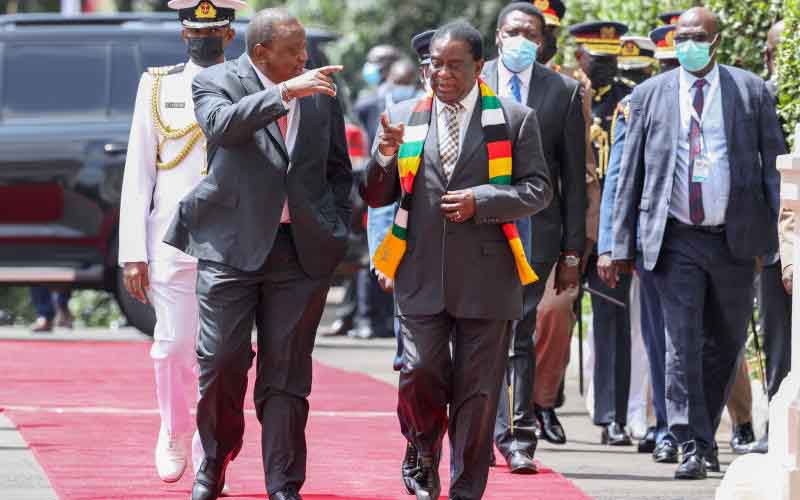 President Uhuru Kenyatta has thrown his weight behind Zimbabwe in the country's push for removal of sanctions imposed on the country.
While hosting Zimbabwean President Emmerson Mnangagwa in State House Nairobi yesterday, President Kenyatta termed the sanctions "unfair" and urged Western countries involved to revoke them.
"These hardships are artificially created and we continue to call on the international community to remove these illegal sanctions," said Mr Kenyatta.
In March last year, US President Joe Biden renewed targeted sanctions against Zimbabwe citing Mnangagwa's reluctance in rolling out political reforms, among other changes.
"Actions and policies of certain members of the government of Zimbabwe and other persons undermine Zimbabwe's democratic processes or continue to pose an unusual and extraordinary threat to the foreign policy of the United States," President Biden said.
He added: "President Emmerson Mnangagwa has not made the necessary political and economic reforms that would warrant terminating the existing sanctions programme."
This despite various countries and the Southern African Development Community (SADC) coming together and calling for removal of the long-running crippling sanctions.
The US imposed the sanctions in 2001 during the reign of former President Robert Mugabe. Since then, financial and travel restrictions against some individuals and business entities have had a detrimental effect on the country, according to Mr Mnangagwa.
The European Union also issued sanctions in 2002, placing restrictions on travel and freezing assets.
Mnangagwa's two-day visit to Kenya, which is also his first since he ascended to power, also saw the two countries sign seven memoranda of understanding (MoUs) that will cater for various sectors.
These are, Political and Diplomatic Consultations, Co-operation in the Field of Tourism and Wildlife Conservation, Co-operation in the Field of Civil Aircraft Accidents and Serious Incidents Investigations, Co-operation in the Promotion of Women Empowerment and Community Development, Co-operation in the Field of Youth Affairs, Promotion of Cooperatives, and Cooperation in the Field of Sport and Recreation.
Mr Mnangagwa said the two countries now have an opportunity to strengthen bilateral ties as well as increase volume of trade and investment.
"This meeting is a positive development, which shows that our relations are going in the right direction. It is through implementation of our MoUs, which have been articulated by President Kenyatta, that our economies will be transformed for higher standards of living for our people," he said.