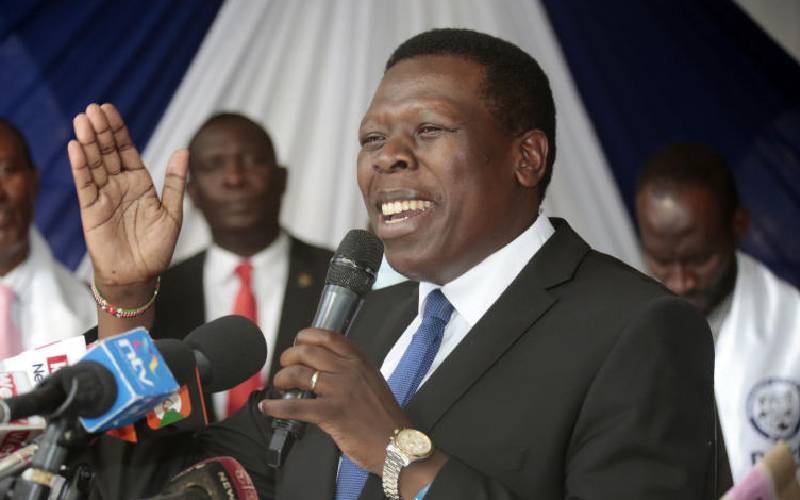 Deputy President William Ruto's audience in the United Kingdom was laughing at him, and not with him when he made his speech attacking Kenya's leadership, Defence Cabinet Secretary Eugene Wamalwa has said.
Wamalwa was referring to Ruto's remarks at Chatham House in London on Monday, when he accused his boss, President Uhuru Kenyatta, of running a "mongrel of a government system".
Speaking at the Democratic Action Party of Kenya (DAP-K) Headquarters at Kilimani Road in Nairobi on Wednesday, Wamalwa said it was inappropriate of the DP to attack a government that he's still part of.
"Don't think that the UK nationals are laughing with you, they are laughing at you. [It's ridiculous that] you are a DP [of Kenya] in a foreign country, abusing a government that you are still serving in. The government that has paid your [air] ticket and per diem to travel to the US and the UK," Wamalwa said.
He further urged the deputy president to follow in the footsteps of UK Prime Minister Boris Johnson who resigned from his position as Foreign Secretary in 2018 after disagreeing with the then-Prime Minister Theresa May over Brexit strategy.
"Do the honourable thing and resign," Wamalwa told the DP.
The Defence CS accused Dr Ruto of absconding duties since March 9, 2018 after President Kenyatta entered a unity pact with ODM leader Raila Odinga.
Wamalwa further faulted the DP's assertions that the Jubilee administration underperformed post-2017 election compared to the first term.
"Ruto might not know how much we have achieved in the second Cabinet. We have achieved much more than we achieved in President Kenyatta's first term," said the minister.
In his speech on Monday, March 7, Ruto said Uhuru told him that his services were not needed in dispensing Jubilee's development agenda in the second term.
"He decided that whatever I did in the first term to coordinate government programmes and work on assignments to consolidate our plan, was to be carried out by somebody else. I did not complain. I had no quarrel with him because that is how he wanted to deliver on his second term. So, Executive Order No. 1 came into force, establishing a different arrangement in government," Ruto said during his address at Chatham House.
According to him, the people that the president tasked with steering his development ship failed in their responsibilities.
"The whole Big 4 plan fell apart. The housing and Universal Health Coverage (UHC) plan never took off, the whole space on agricultural transformation faltered, and BBI went up in smoke. The responsibility of the Office of the President has never been shared between Uhuru Kenyatta and I," said Ruto.
The deputy president is on the record saying President Uhuru is a "squatter in the opposition", and that the opposition is "running Kenya's government".
He describes such a scenario as a "mongrel of a government system".
Additional reporting Jared Too