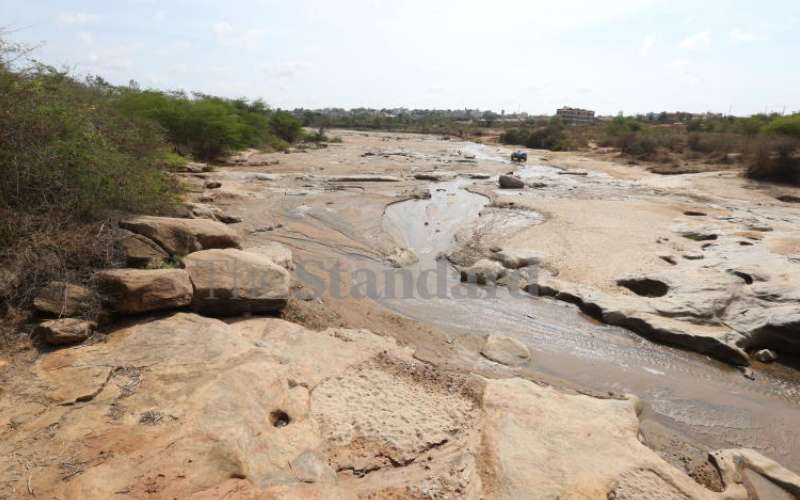 Climate change has been blamed for increased biodiversity loss, water stresses, food insecurity, deaths and stunted economic growth in Africa.
A report by the Intergovernmental Panel on Climate Change (IPCC) released yesterday indicated that despite Africa being one of the least contributors to the Green House Gas emissions globally, it suffers some of the worst effects of climate change.
These include employment of about up to 62 per cent of the continent's population in climate-exposed sectors such as agriculture, in which 95 per cent of cropland dependent on rains.
That households in rural Africa are poor and a lot female-headed only increases livelihood risks from climate hazards.
In urban areas, on the other hand, growing informal settlements without basic services increases the vulnerability of large populations to climate hazards, especially women, children and the elderly.
The report, Climate Change: A threat to Human wellbeing and Health of the Planet, calls for reducing global warming through localised and incremental adaptation to prevent reduction in food production, which in turn negatively affects economic growth, thus increasing inequality, poverty, biodiversity loss, and increased human morbidity and mortality.
"This report is a dire warning about the consequences of inaction," said Hoesung Lee, Chair of the IPCC during the report's launch. "It shows that climate change is a grave and mounting threat to our wellbeing and a healthy planet. Our actions today will shape how people adapt and nature responds to increasing climate risks."
The report indicated that limiting global warming to 1.5°C from 2°C would substantially reduce damages to economies and ecosystems in Africa, where "exposure and vulnerability to climate change are multi-dimensional with socioeconomic, political and environmental factors intersecting," read the report.
Scientists pointed out that climate change interacts with global trends such as unsustainable use of natural resources, growing urbanisation, social inequalities, losses and damages from extreme events and a pandemic, jeopardising future development.
"Our assessment clearly shows that tackling all these different challenges involves everyone – governments, the private sector, civil society – working together to prioritise risk reduction, as well as equity and justice, in decision-making and investment," said IPCC Working Group II co-chair Debra Roberts.
She added: "Failure to achieve climate-resilient and sustainable development will result in a sub-optimal future for people and nature."
The report indicated that adaptation in Africa has multiple benefits, despite climate-related research in the continent facing severe data constraints, poor funding and gaps in research leadership that reduce adaptive capacity.
Many countries also lack regularly reporting weather stations, and data access is often limited, the study showed.
From 1990 to 2019, research on Africa received just 3.8 per cent of climate-related funding globally. Up to 78 per cent of the funding went to EU and North American institutions, and only 14.5 per cent to African institutions.
The number of climate research publications with locally-based authors are among the lowest globally, and research led by external researchers may focus less on local priorities and "finance has not targeted more vulnerable countries."
The report also notes that from 2014 to 2018, "more finance commitments were debt than grants, and - excluding multilateral development banks - only 46 per cent of commitments were disbursed, compared to 96 per cent for other development projects."
The report predicted that adaptation costs would rise rapidly with global warming, increasing public and private finance flows in effect. Concessional finance, it said, will be required for adaptation in low-income settings, with some countries called upon to "align sovereign debt relief with climate goals" to increase finances by "redirecting debt-servicing payments to climate resilience."
There is thus urgency for climate action, the report concluded, focusing on equity and justice through among others, adequate funding, technology transfer and political commitment.
"The scientific evidence is unequivocal: climate change is a threat to human wellbeing and the health of the planet," said Hans-Otto Pörtner, the Working Group II co-chair. "Any further delay in concerted global action will miss a brief and rapidly closing window to secure a liveable future."
Daniel Olago, one of the authors of the African chapter in the IPCC report, said the continent had been familiar with flooding and drought, but the intensity and frequency had gone up in recent years due to climate change.
"Climate change is to blame for livestock theft, reduced energy security and several problems. The report helps make decisions on climate resilience," he said at a briefing for journalists on the Africa chapter. "Africans are closely interconnected with nature, even culturally. It is extremely important that the wellbeing of the people increases by charting new ways forward to ensure sustainability," added Dr Olago.