President puts on notice encroachers of national park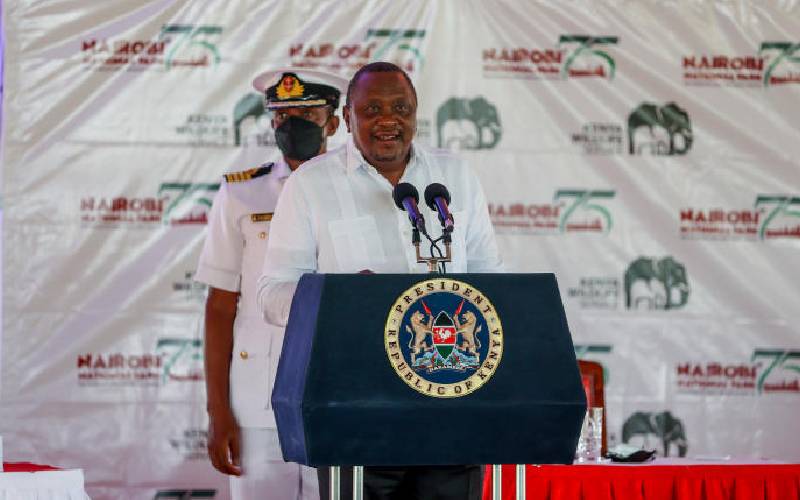 President Uhuru Kenyatta has issued a warning to those intent on encroaching at the Nairobi National Park.
Kenyatta said the unique biodiversity within the park is remarkable considering that it is the only wildlife haven located within a fast-growing city anywhere in the world.
Speaking yesterday during celebrations to mark 75 years since the park was gazetted, Kenyatta said it is possible to have development and conservation side by side.
"It is possible to have skyscrapers and have towering giraffes at the same time. The (park's) management plan gives a roadmap to the maintenance of the pristine nature through a number of programmes. Tusikatakate maploti huku Nairobi Park (Let us not subdivide the national park)," said Kenyatta.
Nairobi National Park, the first in Kenya, was gazetted on December 16, 1946, following intense pressure to authorities from conservationists such as Mervyn Cowie. Earlier, in 1933, an agreement for the Protection of Fauna and Flora of Africa was signed in London, setting the stage for the official protection of wildlife in the continent.
Despite its iconic nature, Nairobi Park faces a myriad of challenges including pressure from poaching, habitat fragmentation and degradation, changes in land use, and adverse impacts of climate change.
Despite the rich wildlife resource, Tourism and Wildlife Cabinet Secretary Najib Balala said revenue from the national parks has fallen by 90 per cent due to the ongoing Covid-19 pandemic.
"Unfortunately, only seven out of the 23 national parks bring in any form of revenue. There's a danger that we could lose the rest of the parks to poaching and human encroachment," said Balala.