Man walks out of jail after 23 years to the embrace of two wives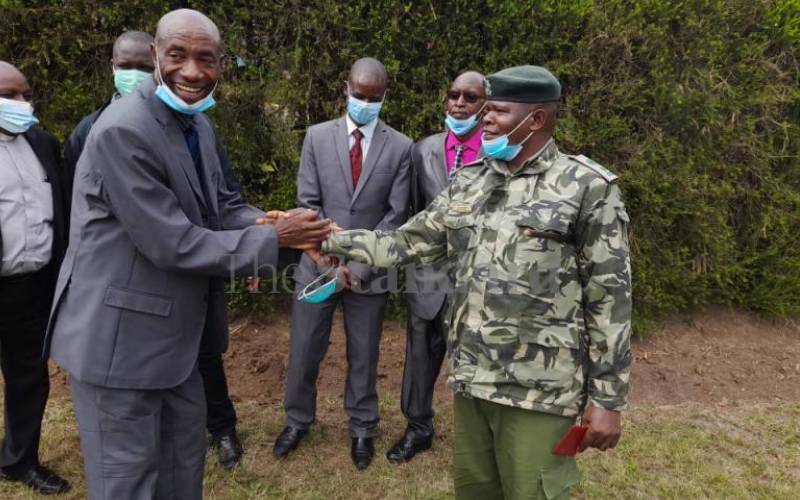 After spending 23 years of his life behind bars, Robinson Siko Ogembo is now a free man.
When he walked out of Bomet GK Prisons last Friday, his two wives and relatives broke into song and dance to welcome him back home.
Ogembo, 48, broke down in tears when the reality of being free started to sink in.
"I did not know that there would come a time I would be set free to join my family and friends. I thank God for seeing me through my sentence in prison," he said.
His two wives who were there to receive him from jail were overwhelmed by emotions as they narrated how lonely life has been in his absence.
Ogembo, who was sentenced to death in 1998 for two counts of robbery with violence, was among 4,000 death row inmates whose sentences were commuted to life imprisonment by President Mwai Kibaki in 2009.
He says when he was arrested, he had just gotten married and life was beginning to get exciting when he found friends who introduced him to crime.
Ogembo says as a newly married man, he was under pressure to provide and prove to his family that he was now a man, which drove him to join bad company.
At first, they were breaking into people's shops but also mugged and robbed victims of their belongings, which they later sold to unsuspecting buyers.
He recalled that between 1996 and 1997 their appetite for money had grown and they operated in Sotik, Litein, Kericho and Kisii towns, where they orchestrated a series of robberies, sometimes when armed with crude weapons.
As they continued to engage in crime, there was a widespread outcry from victims and residents in general. Ogembo's group was marked and the police declared the gang as "the most wanted".
He recalled how two of his gang members were shot dead after police foiled a robbery in Kisii town. He says he escaped miraculously.
"Funny enough, after my colleagues were shot dead, I did not learn any lessons. We carried on with the remaining three friends undeterred. We even became bolder and it is only after my arrest and sentencing that I realised what I was doing was wrong," Ogembo said.
He was arrested in 1998 but his two partners escaped.
He said four of his victims positively identified him in several parades conducted in Sotik, Kisii, Litein and Kericho police stations, despite him denying that he had ever committed a robbery.
After nine months in remand and trying to battle the robbery cases facing him, a judge in Kericho finally convicted him and handed him a death sentence in September 1998. He was given a 14-day window to appeal.
Ogembo, however, said his two attempts to appeal against the sentence hit a snag, and he was taken to Kamiti Maximum Prison.
He says it is while at Kamiti that it hit him that he was going to die in prison.
But in 2009, a gleam of hope appeared through a presidential pardon by President Kibaki who commuted the death sentences of 4,000 inmates who were awaiting execution.
"This gave me another chance. I was now allowed to move within the prison and got transfers from one penal institution to another," he recalled.
In 2019 he successfully appealed his sentence, and the High Court reduced it to a three-year jail term.