Prezzo counts his blessings and surprises waheshimiwa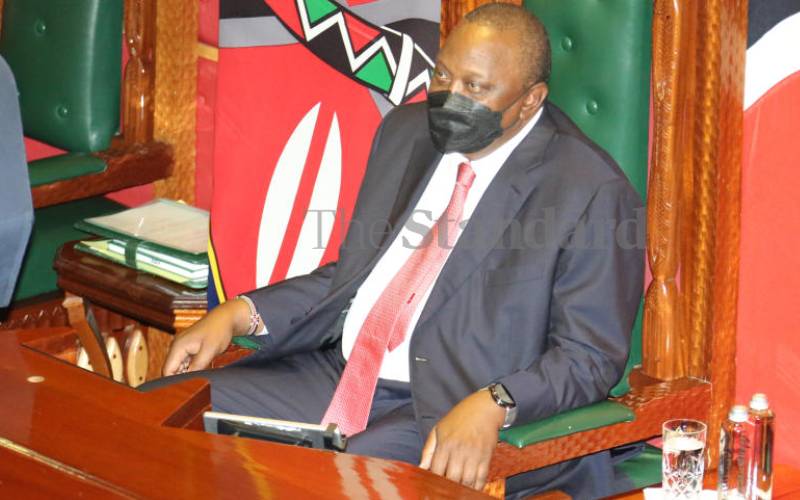 That which had never happened, happened. Someone spoke for more than two hours, and it wasn't a person of the fairer gender.
Count your blessings, the song goes, name them one by one. It will surprise you what the Lord–the president in our context–has done.
Well, Uhunye had grown impatient waiting for Kenyans to count all he had done for them, so he chose to count for them.
And so on he went, testing the kind of punishment his tongue could take for two and a half hours. It is used to 40-minute speeches and occasionally break the one-hour barrier. Even he knew that 180 minutes was a stretch.
"Hata mimi nimechoka," the president's tongue gave out eventually. The countless glasses of water he had gulped down didn't help.
Watching inside Bunge that Tuesday afternoon were conflicted waheshimiwa. Among them were those who wanted Bwana Rais to endure the pain and speak his truth. They wouldn't have minded staying longer to listen to his voice bounce back from the vaults of the chamber.
Then there was the group drenching Bunge's seats with their drool. Those that would nominate Uhunye for the most boring person of the year for delivering the longest speech in history, one they would say was full of 'lies'.
But who could blame the president? He has less than a year left, he needed to remind everyone that he had been working for the last eight. Bunge was the best place to do so. There dwells people who would dance to the sound of his voice and others who could wonder why ears, unlike eyes, don't have lids.
It was a chance to entertain the former and punish the latter with his prolonged stay at the afternoon sitting. But before that, he had the daunting task of facing his deputy, Mr Hustler himself, one he performed with unparalleled grace.
Grace in this case means ignoring the Hustler as only he could. He greeted him when he checked into Bunge and walked away, sparing no time for banter. There was no time for the pretense they have shown previously in public since their fallout, whose genesis neither can trace. Hustler tried to slip in some banter but was blue-ticked.
Inside, the president went on and on about the projects that his Jubilee government had undertaken and subtly implored Kenyans to award him the best ever president award. Of course, his loyalists stomped their feet. He also spoke nothing about corruption and public debt. More stomping of feet.
Then came the ode to his allies in the opposition who showed him around Bunge as a newcomer. Applause. And you guessed it. They almost jumped out of their seats when he prophesied resurrection of BBI. "That which did not happen, will happen!"