Social protection model impossible with our theft and wastage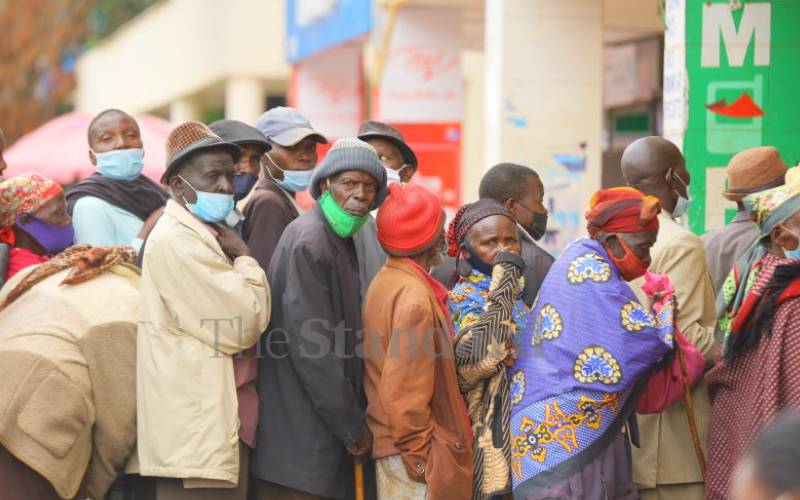 A couple of weeks ago, I argued a case of the risk of creating a welfare state based on the lofty promises of the leading presidential aspirants. At the centre of that article was the question of whether the country has the fiscal space to run the programmes as they are being proposed.
Since then, in the course of duty, I have had an opportunity to go through a structured programme on the necessity and benefits of countries investing in social protection. As it turns out, each one of us is a candidate for social protection and would actually need it in one form or the other. The concept of social protection is much broader than the cash transfer programmes that the government is implementing now, or what majority of us view it to be.
In last Saturday's article, I focused on the risks of lack of adequate cash flows/liquidity for post-coronavirus recovery of the economy. Thus, in the coming days, it is inevitable that the country will require effective policies and programmes to inject money into circulation to stimulate economic activity. For an economy without a robust capital and financial market systems, the only viable options lean on the Keynesian macro-economic philosophies.
These macro-economic policy interventions prioritise spending programmes to inject money into circulation. In such a scheme of things, social protection investments are popular and effective interventions. The developed nations deployed them effectively post the Great Depression in the 1930s and the World War II economic recovery after 1945. In recent times, such investments have been instrumental post the 2007/2008 global financial meltdown and the ongoing post-Covid-19 recovery plans.
Why social protection?
There are three forms of social protection programmes: non-contributory, contributory and market interventions. The ongoing cash transfers to persons aged over 70 under the Inua Jamii programme, persons living with severe disability, and orphans and vulnerable children, are good examples of non-contributory interventions where the government pays for the entire cost.
The contributory ones are those where the cost is partially shared between the government and the beneficiaries. These would include contributory pension schemes, health insurance schemes, partial scholarship/bursaries in schools and the Boma Yangu scheme under the affordable housing policy.
In market interventions, they can be in form of subsides and tax waivers to facilitate access to essential goods and services. Good cases here are fertiliser subsidies, tax holidays within special economic zones, and reforms in personal tax systems to free more cash for households.
In this broad sense of the definition of social protection, it would appear all of us are beneficiaries in one way or the other. Consequently, social protection interventions are inevitable investments for any economy.
The question, therefore, is not whether the government will spend on social welfare programmes. The questions of interest are five-fold: Which programmes should the government invest in and at what point in time? Who are the target beneficiaries and how are they enrolled and exit the programme? What are the intended outcomes? What information do we require, when and where, and what infrastructure do we need to make the programmes effective and efficient?
Ultimately, whichever the programmes, it becomes a civic and moral obligation of the government to ensure that they confer the intended outcomes to beneficiaries and achieve beneficial impacts to the economy.
Building blocs
The architecture of an effective social protection system has eight critical pillars. These include the legal framework, selection and identification mechanisms, efficient administration structures, open and accountable coordination, the right governance structures, effective management information system, finance, and monitoring & evaluation tools and instruments. These elements are bound together by a cord of an effective leadership system.
While no country may in reality claim to have a perfect social protection system, less developed countries like Kenya may suffer higher risks of low investments and implementation challenges. There seems to be growing consensus that government investments into social protection have a larger impact on the economic growth than in any other public expenditure programme.
For instance, a World Bank survey in 2016 on 36 low and middle-income countries indicates that public expenditures on social protection had an average gross domestic product response rate of 1.82 per cent for the period 1984 to 2013. This was ahead of the impacts of expenditures on education, health and defense at 1.42, 1.2, 0.71 per cent respectively.
Kenya spends about 0.4 per cent of GDP on social protection compared to the Organization for Economic Co-operation and Development average of about 12 per cent. The draft Kenya Social Protection National Investment Plan of 2018 targets to increase this to three per cent of GDP by the year 2030/2031.
Invest in children
A June article by the Financial Sector Deepening Kenya documents several benefits that the country stands to gain by expanding public expenditures on social protection.
They include accumulation of human capital stock by investing in children to avert stunting. This is especially so with the widespread poverty. Other related interventions like provision of sanitary towels for girls from poor households contribute significantly to their retention in schools and performance.
Another benefit is the redistribution of wealth to reduce income inequalities. This would in return enhance social cohesion, avoid social unrest and offer a conducive climate for investments. The multiplier effects would be in the provision of jobs and consequent growth in government revenues in the medium and long term.
The programmes will also stimulate the rural economy especially in the Kenyan context where the majority of the population lives. For instance, the cash transferred to the elderly gets spent within their localities. They support the micro and small enterprises in their areas.
Pitfalls to avoid
The effectiveness and consequent economic impacts of our social protection investments may, however, be limited to nefarious elements within our socio-economic fabric. One of the major criticisms for certain social welfare initiatives is that poverty is largely a condition of the mind. For instance, can any government intervention cure a pervasive widespread culture that promotes distaste for honest work, rewards mediocrity, loves shortcuts and undermines innovation and creativity within a market-based economy?
The second question for our context is whether an effective social protection system can exist in an environment of highly extractive political institutions. By their very nature, social protection initiatives require legitimisation and political power and goodwill to drive them. What happens when the political elite turn out to be wolves in sheep's skin? In a country projected to lose at least one third of its annual budgets to official plunder and waste, won't social programmes be the icing on the cake?
Finally the fiscal space. Advanced nations did not wait until they became rich to start their social protection programmes. The UK is believed to have started them in 1820 when their GDP was equivalent to Kenya's in 2019. The departure here is on our lack of integrity and good governance structures.