Burning issues: Why teenagers are protesting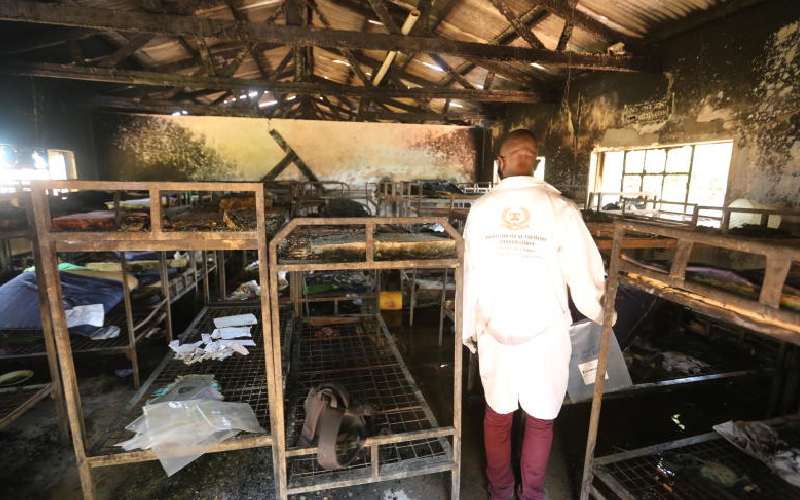 In the 1992 movie, Sarafina!, shot in South Africa, a group of fired-up students, considered radicalised by the colonial regime, set a classroom ablaze.
The students are convinced that this form of protestation, seen as ignoble by the administration and its sympathisers but sagacious by the learners, will earn them and their country freedom.
A spate of protestations follows, with property destroyed and lives lost and, ultimately, the country gains freedom, mostly driven by protests by the youthful population.
Whether Kenya's secondary school students have been watching that film on repeat or not is yet to be debated, but they have been acting it. What freedom they seek, going on a rampage and starting fires that have devoured dormitories all over the country, is now the subject of stakeholders' boardroom discussions.
Disgruntled authorities have been up in arms. Kakamega Governor Wycliffe Oparanya recently called for heavy jail terms, in excess of 60 years, for students found culpable of arson. Students civil enough not to put school property on fire staged walkouts.
A story went round on social media that a group of students told their principal they would contact him at their own pleasure on when they would fancy returning to school.
Amid a debate on whether corporal punishment should be reintroduced in schools and with Education Cabinet Secretary George Magoha adamant the government will not carry the students' cross and will not be bullied into closing schools, many wonder what suddenly seeped into the minds of the learners.
But this is not new.
"The issue of student unrest became prominent in 2016 and has since become a major issue in this country," says Kahi Indimuli, the senior principal of Machakos Boys High School. Indimuli is also the chairman of the Kenya Secondary School Heads' Association (Kessha). "It has only escalated this year," he says.
In condemning the students, the common argument among parents is "we were there, we did not do that" and "they are just spoilt, we should be stricter on them." Are these valid arguments or are we missing the point?
Joy Nasimiyu, a parent, who is also a public relations executive, says today's teenagers are allowed the privilege of getting themselves heard. This freedom is as big as they come. But these teenagers lack the crucial virtue of patience and are also often short on discretion, she says.
"Our teenagers today have a voice. They don't care whether you agree with them. They know their rights and will tell it to your face. They lack patience; if you don't satisfy their needs, they move on very, very fast," says Nasimiyu. "They want instant gratification. I have a cousin who has quit his job because they didn't make him manager even when he thought he deserved to be manager. He has one-year experience," she adds.
When this impatience meets peer pressure, the results are catastrophic.
"This is an age where the children experience and bow down to a lot of peer pressure, and they thus need a lot of guidance," Faith Nafula, a counselling psychologist, says of teenagers. But these students barely get the guidance they need as teachers are already dealing with very high numbers of students.
Numbers in schools have increased tremendously over the years, putting pressure on resources. When these students find discomfort in school, they rally one another into a destructive spree. Granted, the bigger the mob the poorer the discernment.
"Over time, we have overlooked the bigger schools and they are facing stress in terms of numbers of students. The students are uncomfortable. There needs to be controlled numbers as there is a strain in facilities, one of the reasons the students resort to violence," Indimuli says.
And there, in institutions of considerable "might", problems begin.
When a notable school riots, others follow suit, which Indimuli says is a dangerous copycat attitude.
"The copycat attitude where when a significant school does something the rest follow is damaging," he says. "The if-they-did-it-why-can't-we attitude has been one of our biggest problems," he adds.
Indimuli says one of the reasons students resort to unrest while it would be easier to walk to their teachers and express their concerns is fear of victimisation.
"Children are often poor in communicating their grievances. They fear being victimised. They will want to react to something by sending a message that will be seen clearly. It is sad that they have chosen to burn schools as their means of expression. We need to assure them that if they tell us their grievances, we will not use their statements against them," he says.
Nafula agrees with this argument.
"These students should be given proper channels to express themselves. A listening ear helps. These students need attention and need to be listened to. They are battling hormonal imbalances and are looking for their identity," she says. "Schools often lack good channels through which disgruntled students can vent their frustrations and they bottle them up until they cannot anymore."
They want to be understood.
Cases of schoolchildren staging demonstrations because they were not allowed to watch the duel between English Premier League heavyweights Liverpool and Manchester United showed how aloof school administrators could be. A 90-minute thriller, in no way harmful to watch, led to the loss of days of learning time.
They just want to be heard and understood.
It should not be ignored that these students are growing up in a world so technologically advanced that the transfer of information is easier than it has ever been.
They are "woke" and are easily drawn into trends, good and bad, often keen to associate themselves with whatever is happening across the globe and thus always being very close to trouble.
Lagosmums, a Nigerian company, writes on its website: "In previous decades, teenagers passed time by reading fiction novels, visiting each other or listening to their Walkman. Today's teenager is almost never seen without a phone or an earpiece. They do homework on their computers and submit assignments online. They stay glued to devices, thanks to social media."
And in here, they get all the influence they could, often with an incapability to make the right choices and thus blindly follow what they see.
"Teenagers are the first to sample any new media. Video calls, texting, music, games, and apps make you less and less important to your kids. Modern technology has bridged the global digital divide," says Lagosmums.
"With internet access, our teenagers have access to anybody – both positive and negative influences – anywhere in the world. The 21st-century teens, in particular, are technologically savvy. They know sites you've never heard of, apps you never dreamed of, and hacks you never imagined."
Poor parenting has also been brought into sharp focus.
"Most of these students are defiant even at home," says Nafula.
"I always say that home is the first school they have. Democratic parents help these students develop high self-esteem. Overly strict parents make children secretive and they end up going to seek comfort from peers."
Parents, she says, should strike a balance between being too strict and being lenient to help the students manage to communicate their issues.
Nasimiyu says deadbeat fathers are also hugely culpable for a youthful generation that is not solid on values. Absent mothers do not help matters either.
"Children have especially no father figures to discipline and put them in line. Everything is left to the mother because the men are busy 'looking for money'. Where it's one parent concerned with bringing up the children, the parent gets exhausted and now leaves them be," she says.
The modern parent, too reluctant to discipline a child, ultimately spoils it.
"We have also been too lenient and have allowed some bad behaviours to grow with the children. You will find someone hesitant to discipline a three-year-old because 'they are babies and that's how babies behave' or the these-are-small-how-do-you-even-discipline-them attitude. They get to five and you can't discipline them anymore because you have never said no or tried to stop them," Nasimiyu says.
"Sometimes you find the mother apologising on behalf of the child. Parents should make their children apologise. That's how they learn to face the consequences of their actions," she says.
"There are children I do not allow in my house because they are too ill-disciplined and the parents laugh it off. A baby throws tantrums and will even beat other children up and the mother says, 'that is how he/she is'."
An innate spirit of blatant disregard for rules by Kenya's adult population, including leaders, is also blamed for the teenagers' ill manners.
"These students are bright and learn from adults. They see how we behave and they copy that. We are an ill-disciplined nation and there is a lot of defiance of court orders, or of directives from the Ministry of Health meant to curb the spread of Covid-19 and the children have learnt from it," says Indimuli.
"Where there is defiance, anarchy is born. As a nation, we have to learn to follow laid down rules. Some of these students are reacting to rules they feel are too strict, and because we have taught them that when the rules are this strict, you can protest and cause damage."
Indimuli says student leaders should negotiate with the school administration in case the learners need something done.
He, however, faults the system where students are allowed to elect all their representatives, or leaders, saying they always go for the peers they can easily influence.