No 'blood', please: Why church wouldn't allow MP dressed in red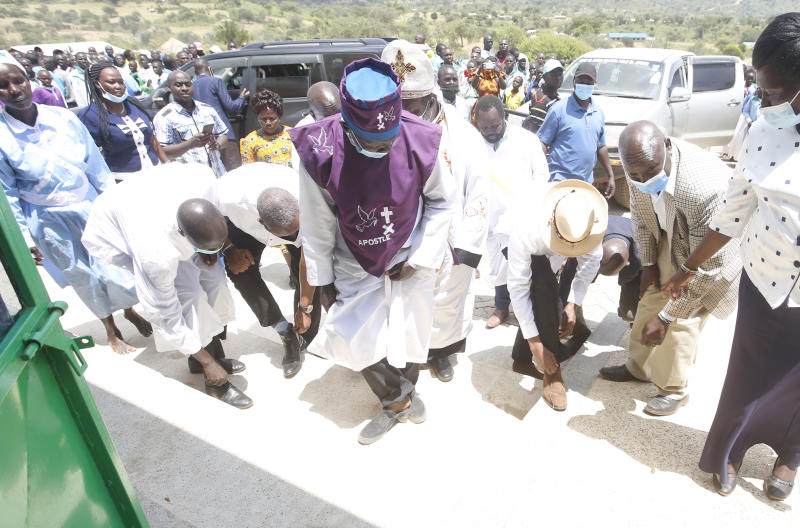 For Baringo Woman Representative Gladwell Cheruiyot, red is the Kanu party colour, which she wears anytime there is an official party function.
So when Baringo Senator and Kanu party chairman Gideon Moi, requested Cheruiyot to accompany him to a fundraiser at a church on Wednesday, she picked a red dress, and completed the look by tying a red scarf on her head.
"Whenever my boss calls that we go somewhere, I rarely ask where, all I know is I have to be dressed in red, the Kanu party colour," she said.
What Cheruiyot did not know at the time was that the journey to New Jerusalem, Dini ya Roho Mafuta Pole ya Afrika Church in Sook village, West Pokot County, was not an ordinary trip.
The colour of her dress would later deny her entry into the church because it is unacceptable to the church.
"When I arrived for the function and was just about to alight from the car someone said 'this one is not needed here' and I had to go back,'' she said, adding that she stayed in the vehicle out of fear.
Later at the fundraiser which was held outside the church, members of the congregation, all dressed in white robes, burst into laughter as the lawmaker sought forgiveness, saying she was not aware of the church's policies. She vowed never to make such a mistake again.
But Cheruiyot was not alone in the culture shock; Senator Gideon also had to remove his shoes before entering the church where he held a brief meeting with the church leadership.
The church, with a unique doctrine, has two doors, one for men and another for women. Surrounding the church are four scenic hills giving the sleepy village a natural beauty.
According to pastor Apostle Aristi Kapel, red is a sign of blood and is therefore not allowed in their church.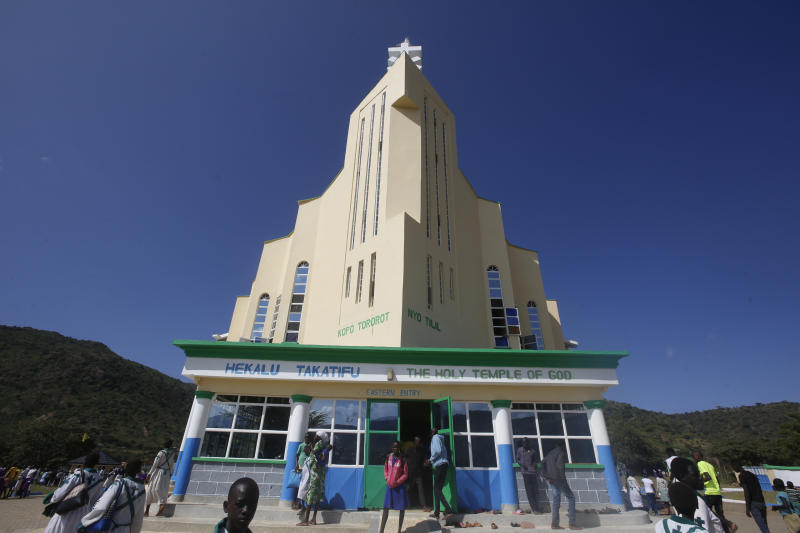 "We preach and practise our faith in the way of the Holy Bible and blend it with Pokot culture and Christianity," he said.
Adding that, "Red is a sign of blood. When Jesus Christ was crucified, enough blood was shed. We do not want to be reminded of that, hence the decision to outlaw the wearing of red clothing in the church. Anyone dressed in red is not allowed to enter the church."
He, however, could not explain what would happen to a member who enters the church in red clothing.
Kapel went further to explain that the removal of shoes symbolises that the church is a holy place.
On this, he refers to the Bible book of Exodus 3:5 that talks about the Lord appearing to Moses in flames of fire from within a bush while he was tending to his father-in-law's flock.
According to scripture, the Lord told him to remove his shoes because the place he was standing on was holy ground. Kapel said they continue with that tradition of removing shoes because they believe the church is a holy place.
The church prohibits members from exchanging rings during weddings as it is believed that the Holy spirit unites them.
Additionally, women are not allowed to enter the church during their monthly periods as they are considered unclean.
Started in 1940 by Lukas Pkech, a blacksmith, the church has become a stronghold of the Pokot community, with thousands of followers in West Pokot, Baringo and Uganda.
Pkech was described as a controversial figure in Pokot history and lived in Keringet village near the current Kapenguria town.
It is said that through his skillful art of making jingles, he attracted many followers among the Pokot.
Because of his ability to attract large crowds, he got into trouble with the colonial government and clashed with police troops on April 24, 1950.