Governor Alfred Mutua, Lilian Nganga 'amicable separation' gets messier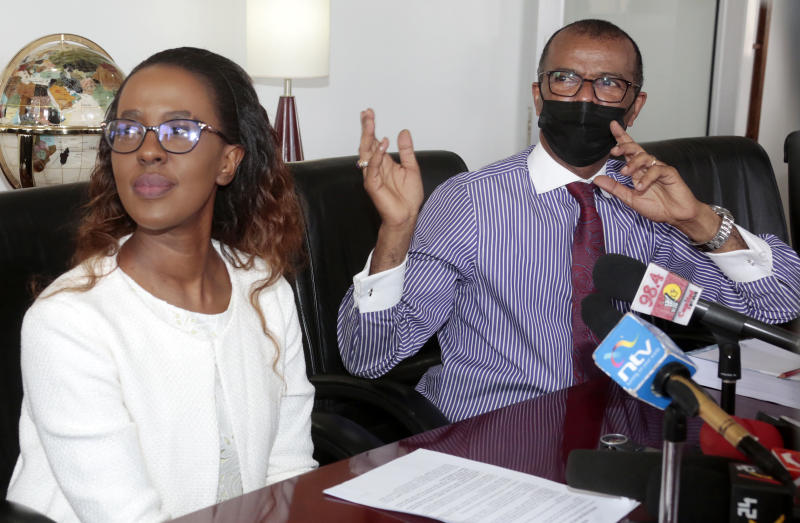 The 'amicable' separation of Machakos Governor Alfred Mutua and his former partner Lilian Ng'ang'a took a new twist yesterday, with a prominent lawyer stepping in and fresh accusations flying the way of the county boss.
On August 15, Ms. Ng'ang'a announced that the winds of change had blown her away, and that she had decided to end her "long term relationship" with the governor.
On that day, she paid glowing tribute to the decade-old relationship, describing it as a good run, and thanked God for bringing her together with Mutua.
"We remain friends," she declared.
On the same day, Mutua issued his own statement, quoting Roger Whittaker's song, saying the first time they met with Lilian, is the time they started saying goodbye to each other.
He said they had agreed to "slowly disengage", that they were in amicable terms and that they remained very close as friends.
"Lilian has been an excellent First Lady... we have agreed she can continue with county projects, she will be a close advisor as I govern Machakos county and run for president," he said.
A few days later, and probably in a gesture for these amicable terms, Lilian turned up for Mutua's 51st birthday bash. On that day, however, the tell-tale signs of the boil-up underneath began to show up.
She was stiff to the bone, flashed a functional smile, and occasionally appeared to ignore the conversations.
Soon thereafter, one thing led to another, until yesterday when Lilian showed up in a press conference with lawyer Philip Murgor, revising the amicable separation, and making strong accusations against the governor.
Before yesterday, Lilian's relationship with rapper Julius Owino aka Juliani blossomed and dominated social media sites. There were statements made, reports made and declarations made. On the sidelines there were taunts made, houses blown and claims made.
Then yesterday happened.
"I have seen Mr. Mutua state in print and social media that we are still friends, and our separation has been amicable. These are Mutua's usual theatrics and lies. Mr. Mutua and I have not spoken since late August 2021," Lilian claimed.
That must have been at Mutua's birthday.
However, Lilian claimed there was another meeting at Windsor Golf and Country Club on September 22, 2021, where she requested Mutua for an amicable separation, while at the same time underscoring that they were never married in the first place.
She proceeded to make various claims on her property, her safety and the safety of her friends. We could not reach Mutua for her side of the story with regard to the claims.
The two co-owned the Machakos-based luxurious A&L hotel which presumably derives its name from the couple's initials. They co-own the company that owns the hotel, and which Lilian claimed is named after her high school nickname- Ndash.
Lilian also accused Mutua of overreacting to their separation. She has said she has reported her claims at Kilimani Police Station, under OB NO:84/15/09/2021. She said she has also filed a case at the High Court in Milimani seeking a restraining order against the governor.
"I now understand first-hand how and why many women continue to suffer in silence, and especially if their partners or former partners are in positions of power and influence," she said yesterday.
From their earlier statements, the two had no issues between them.
"I thank God for bringing Lillian into my life and the many ways we have made each other grow. We celebrate life and are pleased that we have reached this decision in a mature, agreeable manner. I am a happy and blessed man and we have agreed we will protect and support each other," Mutua had claimed.