Why it matters to politicians to go for blessings from the elders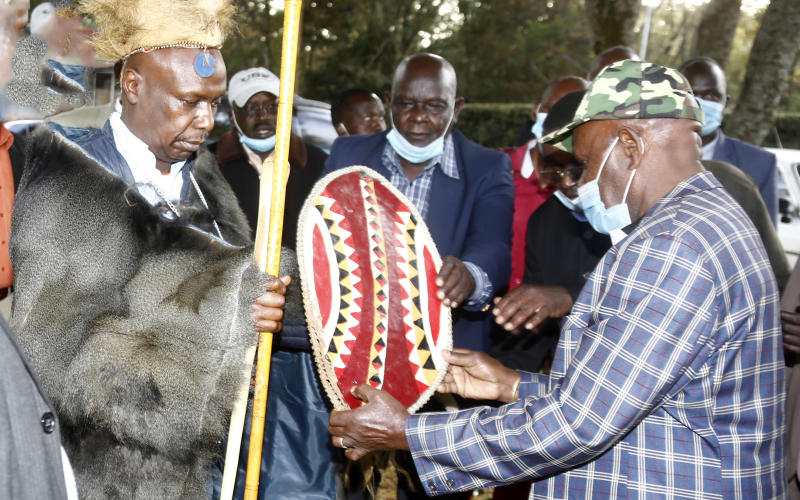 In January this year, Baringo Senator Gideon Moi was installed as a Kalenjin elder by Talai elders. The elders also endorsed him and gave him their blessings to contest for the presidency in 2022.
Elders from the Talai clan, who are feared and loved in equal measure, are believed to possess mystic powers to bless or curse, making them among the most sought after by politicians in the Rift region.
During the coronation, the elders anointed the senator by pouring oil on his hands and feet. They dressed him in traditional headgear made of lion's skin before slaughtering a white ram.
The elders also handed him crucial instruments of power after they sprinkled them with milk and honey to bless them.
"We have coronated you to be the spokesperson of the community. We need to hear your voice. Our journey will not go in vain. You have the voice, and today, you will be the community pillar. Take care of this country," Talai Council of Elders chairman Christopher Koyogi told Gideon.
In September, Gideon went to his rural home in Sacho, Baringo County, where he received blessings from elders and the local community ahead of the Kanu's National Delegates Conference.
During the conference, Gideon was endorsed as Kanu's presidential candidate in the 2022 polls in a colourful ceremony attended by top politicians.
And on October 5, Nakuru Governor Lee Kinyanjui hosted a delegation of Luo elders from the county, days after declaring that he would back a Raila Odinga presidency.
The elders crowned Kinyanjui as a Luo elder and handed him cultural instruments, including traditional gear, a three-legged stool, a spear and a shield.
Notable among them was a hat that was former vice president Jaramogi Oginga Odinga's favourite, signifying the community reception of Kinyanjui to the Luo community leadership.
Speaking to The Standard, Luo elder Maurice Oloo, who presided over the ceremony, said the decision was informed by Kinyanjui's support for the community and his political stand.
"We are among the minorities in the county, and Kinyanjui has greatly united all communities. He has appointed some of our members to his cabinet. He has also thrown his weight behind Raila," said Mr Oloo.
The elder said this was also aimed at solidifying Kinyanjui's political base in the county, as he seeks reelection in the coming polls.
"Kinyanjui's support for Raila is worth rewarding. We shall rally to support his candidature," said Oloo.
The minorities group, most of whom have been voting for Raila, accounts for nearly 350,000 registered voters in the county.
On July 20, Bomet Governor Hillary Barchok, who is seeking a second term in office, received blessings from elders in a ceremony held at his Kimawit home.
The elders proclaimed blessings on the governor ahead of the 2022 general elections and handed him a symbolic leadership rod after performing various rituals.
"We want him to continue with the work he is doing for the county. We have given him blessings as per our traditions and wish him well in this journey," said an elder presiding over the ceremony.
While accepting their endorsement, Barchok appreciated the significance of the rituals, promising not to let the elders and the county down.
"Being anointed and receiving the leadership rod shows great respect and recognition. Each of the rituals has its significance. I assure them that I will do what they had directed me to do, especially uniting our people and bringing development," said Barchok.
Barchok will be facing off with former Bomet Governor Isaac Ruto.
In January, two brothers of former Cabinet minister Julius Sunkuli were endorsed by different groups of elders to vie for the Narok Governor seat in the 2022 General Election.
Andrew Sunkuli, a Nairobi-based businessman, received blessings from the elders, and a week later, his brother Charles Sunkuli, who is currently the Principal Secretary (PS) at the Ministry of Devolution, received similar blessings for the same seat.
Popularly known as the Sunkuli brothers, the duo vied for the Narok senatorial seat in 2013, leaving their strongholds divided. They lost to Stephen ole Ntutu.
While Andrew publicly declared that he would contest for the governor seat after his endorsement, Charles said he would make his decision known at the right time, owing to his current position in civil service.
James Kaipoi, a Maasai elder and retired chief, described Andrew's endorsement as significant in his political journey and said it would go a long way in giving the community direction at the ballot.
"We have dressed Andrew in leadership regalia. No one else will come here to claim that he has the blessings of elders. Elders from all age-sets have backed him. Everyone now knows who has the blessings of the community," said Kaipoi.
In an interview with The Standard, Kikuyu Council of Elders chairman Kimani Maigua said the rush by politicians to elders had cultural and political implications.
"Once one is coronated as an elder in their community, it opens the door for blessings from their people. It also opens a door for ceremonial installation as an elder by other communities," said Maigua.
He said a politician's association with elders from a particular ethnic community made it easier for them to endear themselves to the electorate and garner votes.
"Coronation as an elder places a person in a position of power once they receive instruments of power. Politicians often run to elders because other groups such as the youth do not exist in a structured manner," said Maigua.
He said the Kikuyu Council of Elders had restricted coronations to the top seats to avert creating divisions among the people.
"A person who has been installed as an elder has the responsibility to ensure there is peace. With the high number of candidates seeking the junior posts, we do not involve ourselves, as this would undermine the spirit of uniting our people," he said.