The Somalia question in Jomo, Uhuru speeches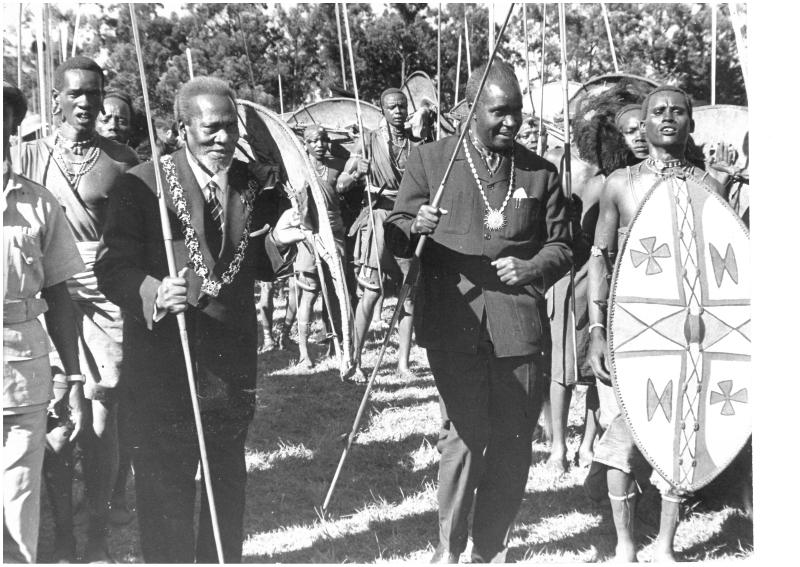 They say lightning does not strike the same place twice, but in Kenya certain political events and circumstances recur with such clarity that it seems we are caught in a time warp.
Yesterday, as President Uhuru Kenyatta inspected the guard of honour facing Mt Kenya during his last Mashujaa Day as Head of State at Wang'uru in Mwea, one of his biggest challenges was not the comical 'sibling' rivalry between politicians jostling to succeed him.
The biggest external threat, Uhuru has declared, is posed by Kenya's neighbour, Somalia, who have staked claim to 100,000 square kilometres of Kenya's waters in the Indian Ocean.
This territorial claim was partially validated by the International Court of Justice, which altered Kenya's boundaries in the high seas to accommodate Somalia's claim.
Some 44 years ago, on a day like yesterday, Uhuru's father, Jomo, presided over his last Mashujaa Day on October 20, 1977. He, too, was facing a similar nightmare from Mogadishu as is evidenced in his last Mashujaa Day address to the nation.
On that day, Jomo issued a chilling warning to Somalia who he accused of plotting to alienate part of the country.
Fuelled anarchy
He reminded Kenyans how Somalia had fuelled subversion and anarchy against his government in the first four years of independence, which only ended after intervention of the Organisation of African Unity, culminating in a peace agreement in October 1967 in Arusha under the chairmanship of Zambia's Kenneth Kaunda.
Jomo regretted that despite the peace agreement, "10 years later, it is surprising to learn that maps circulated within Somalia still lay false claim on Kenya territory.
"It gives me no satisfaction, as Head of State to dwell upon hostility displayed towards Kenya in any country with whom we share a common border. I would always prefer the question of neighbourly relations to be reviewed in useful contexts of trade... but we have to be realistic and the Republic of Kenya cannot and will not be diverted from the principles and aims which had earlier inspired the architects of our uhuru."
Jomo died 304 days after this tough speech, leaving the country to mull over his warning: "Let no man doubt that Kenya's national integrity has become a sacred trust."
Like his father, Uhuru has declared he not cede even an inch of his motherland to Somalia, and has vowed to keep the Kenya Defence Forces in Somalia.
Uhuru, who was 17 years then, made his last Mashujaa Day speech as president yesterday and is expected to hand over the reins of power and headache of securing Kenya's territorial borders by September 6 next year.