Frying pan to fire: How serial child killer was caught, lynched by mob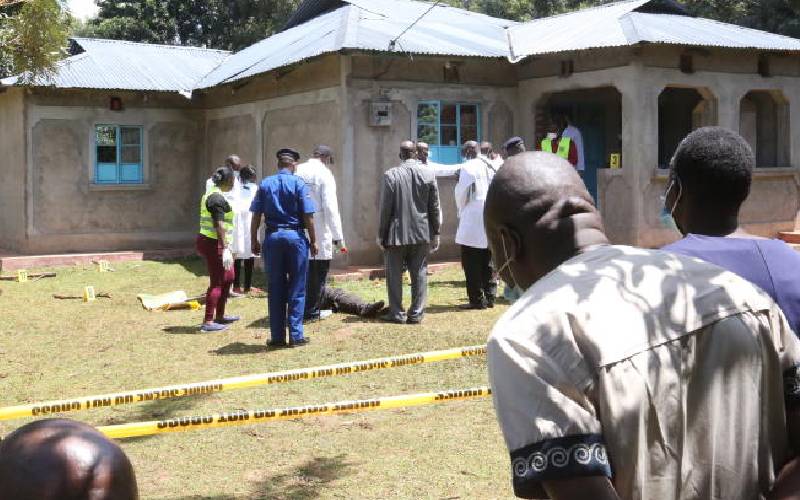 He escaped from a police cell in Nairobi, but Masten Milimu Wanjala, a self-confessed serial killer could not escape the wrath of villagers at Mukhweya in Bungoma County.
At about 6.30am yesterday, a group of learners on their way to school spotted Wanjala, who had 'vanished' from the Jogoo Road Police Station in Nairobi on Tuesday night, and raised an alarm.
Mathias Barasa, a villager, said he was escorting his two children to school when he met a man along the way whose features resembled those of the suspect.
"I did not talk to him as this would have prompted him to run away. He wore black open shoes, a black sweat pants and a black hood that covered his face. Only his eyes were not covered," said Barasa.
"I hurriedly took the children to school and rushed back to the market centre only to meet with the locals who were chasing him. I proceeded to Nalondo Police Station to inform security officers."
Moses Mukhwana, who runs an eatery at Mukhweya market, was among the first people to be informed that the suspect was heading towards the market. He strategically took cover.
"When I saw Wanjala, I called out his name aloud and he started running away. He even threatened me and some villagers who were around. He was armed with a pair of scissors," said Mukhwana.
The businessman made a distress call that attracted residents who started milling around the market.
"The crowd started chasing Wanjala, who ran into a nearby homestead belonging to Alfred Wekesa, the head teacher of a local primary school.
According to Mukhwana, Wanjala jumped into the teacher's house through an open window and locked himself inside.
"He hid behind timber that was in the living room but he was panting. Our mission was not to harm him. We wanted to hand him over to security agencies but he attacked us," he said.
The three men easily overpowered Wanjala and frog-marched him out of his hideout. However, a mob milling outside pounced on him immediately he stepped out of the house, attacking him with sticks and stones, and killed him on the spot.
Unconfirmed reports indicate that Wanjala had earlier been spotted at Sikusi market, where he has relatives, two days earlier.
Those who knew Wanjala described him as a calm man who loved to play with children.
Kizito Lukorito, who taught Wanjala in Class Seven and coached him at Namakhele Football Club described him as a quiet and talented footballer.
"You could not have imagined he would turn into a criminal. He loved children and played with them, including my children. He would buy them sweets and mandazi," said Lukorito.
Bungoma County police commander, Musyoki Mutungi, said the suspect managed to sneak into his parents' home but villagers noticed him.
"Wanjala arrived at his parents' home but he was spotted by neighbours. After sensing danger, he opted to move into a nearby house. It is curious villagers who first identified him and killed him even before the police could be informed," said Mutungi.
Martin Nyuguto, the head of Homicide Investigations Department was flown in from Nairobi and after fingerprint examination, confirmed the dead man was Wanjala.
The suspect was arrested in July in connection with the killing of two children that had gone missing in Shauri Moyo, Nairobi.
Upon his arrest, he took the police to at least six locations in Nairobi and Bungoma counties where he had dumped bodies of his victims. He was expected to appear in court on Wednesday when news broke out that he had escaped. Meanwhile, three police officers who were on duty on the night Wanjala escaped from the station have been granted Sh100,000 cash bail each.
Additional reporting by Collins Kweyu